News matching with tag "Digitization"
Showing 6 to 10 of total 124 items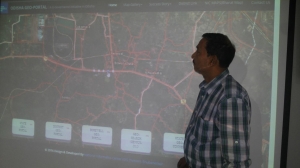 Odisha Geo-Portal (https:// gisodisha.nic.in) was designed and developed by Shri Bijaya Kumar Samal, Scientist-D, GIS Division, NIC, Odisha State Unit, Bhubaneswar. It was inaugurated by Shri P. K. Pramanik, DDG & SIO, Odisha on 19th November, 2016 in the Conference Hall of NIC. In this occasion, Shri Pabitrananda Patnaik, Technical Director and Head, Training Division welcomed all the participants and gave a glimpse of the portal followed by SIO's inaugural speech. All
...
A. K. Hota, Odisha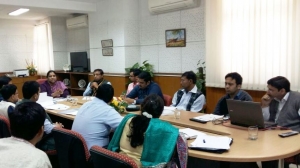 "eSuvidha, an On-line Project Management System, tracks the projects involving investment above 1000 crore. It enhances the efficiency, bring transparency and improve the communication between industries to Government and State to Centre or vice versa. It automates the entire tracking of stalled investment projects in the context of the bottlenecks. Industries can submit their projects with issues after creating their login credentials. When any project with issues is being added by an industry
...
Dr. Shubhag Chand, Delhi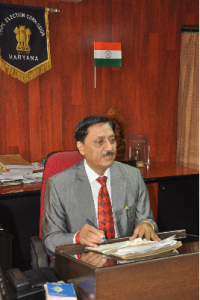 E-Dashboard a web based online application developed and implemented by National Informatics Centre (NIC), Haryana for the conduct of elections for the Panchayati Raj Institutions (PRI) as well in Urban Local Bodies (ULB) -2016 recently held in the state of Haryana is a landmark innovation. The said Dashboard dispense with all conventional monitoring and communication system as used earlier in electoral process system and introduced an automated real time monitoring system which further
...
Rahul Jain, Haryana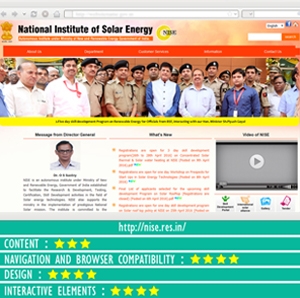 National Institute of Solar Energy, an autonomous institution of Ministry of New and Renewable (MNRE), is the apex National R&D institution in the field Solar Energy. It assists the Ministry in implementing the National Solar Mission and coordinates research, technology and other related works. The homepage of the website uses vibrant colours and has a prominent slider displaying pictures of various events and activities of the Institute. The global navigation menu present in the header
...
Lokesh Joshi, Principal Systems Analyst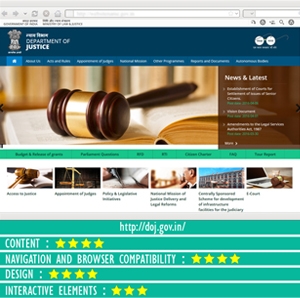 Department of Justice is a part of Ministry of Law & Justice and is one of the oldest Departments of Govt. of India. The functions of the Department of Justice include the appointment, resignation and removal of the Chief Justice of India, Judges of the Supreme Court of India, Chief Justices and Judges of the High Courts and their service matters. The Department implements important schemes for Infrastructure Development of Subordinate Judiciary, Legal Aid to Poor and Access to Justice. The
...
Lokesh Joshi, Principal Systems Analyst
Search Online News