News matching with tag "Citizen Centric"
Showing 6 to 10 of total 278 items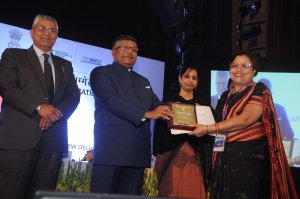 It was a proud moment for NIC, Koraput, Odisha to receive the award in the National DIO Meet for its exemplary achievement on digital payments campaign. DIO, Koraput, Smt. Sailabala Prusty, received the certificate of appreciation with memento from Honble Minister of IT & Comm. and Law & Justice Shri Ravi Shankar Prasad, in presence of Minister of State, Shri P. P. Choudhury, Secretary MeiTY, Smt Aruna Sunderrajan, IAS , and DG, NIC, Smt. Neeta Verma. Koraput
...
A. K. Hota, Odisha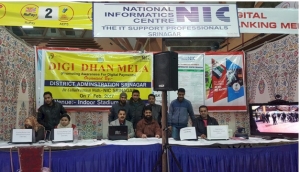 Divisional level Digidhan Mela was held today at Indoor Stadium Srinagar on 7th Feb 2017. The Divisional Commissioner Kashmir, Deputy Commissioner Srinagar and other dignitaries were present on the occasion. DIO NIC Srinagar in his welcome address emphasized the need of digitization in the country for easy transfer of money and also shed light on various modes of electronic transactions. Deputy Commissioner Srinagar in his address added that digitization will pave way for a new revolution in which
...
Jit Raj, Jammu and Kashmir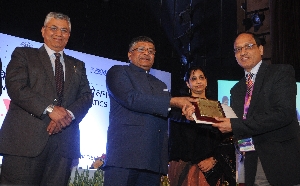 Shri Ravi Shankar Prasad, Honorable Union Minister for Information Technology, Law and Justice awarded the appreciation certificate and memento to Sh. Rakesh Kumar, District Informatics Officer, Bilaspur, NIC Himachal Pradesh, during the National Grassroot Informatics meet, on 19th January 2017 in New Delhi for his exemplary services towards Digial Payment initiatives. Sh. P.P. Chaudhary, Union Minister of State for IT, Law and Justice, Ms. Aruna Sundarajan, Secretary, MeitY, Dr. Ajay Kumar, Additional
...
Ajay Singh Chahal, Himachal Pradesh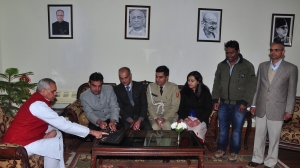 His Excellency, Acharya Devvrat, Honourable Governor of Himachal Pradesh, launched the website of the HP State Red Cross Society on 31-January-2017 at Shimla. Sh. P.S. Rana, Secretary of the State Red Cross Society and Sh. Ajay Singh Chahal, State Informatics Officer, NIC HP were present during the launch ceremony with other officers. Highlighting the importance of the Red Cross, the Honorable Governor laid stress on its strengthening and increasing the scope of services. He hoped that the website
...
Ajay Singh Chahal, Himachal Pradesh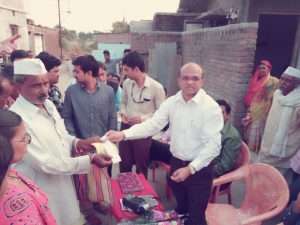 e-PDS system is successfully implemented at Amravati Disitrict. Point of Sale device based sale of food grains under Public Distribution system is launched at Teosa Taluqa of Amravati District of Maharashtra on 17th Jan. 2017.
Moiz Hussain, Maharashtra
Search Online News