News matching with tag "Citizen Centric"
Showing 6 to 10 of total 91 items
District Magistrate, Hardoi Shri A.K Dwivedi inaugurated the single window kiosk at tehsil Sadar on 1st April 2013. Computerized Caste, Income and Domicile Certificates will be issued to the citizens from these Kiosks. The computerized certificate delivery system has multiple benefits over the manual process, previously an applicant had to make multiple visits to the concerned office and wait in long queues to obtain a certificate. Now the certificates will be delivered from the kiosk and
...
Anshu Rohatgi, Uttar Pradesh
Days have gone when people had to make multiple visits to the municipal corporation offices for applying and receiving birth or death certificates. Lots of time & money had to be spent by the citizens for obtaining these government services. However, the scenario changed in the state with the launch of State Portal & eForms project on 1st August 2012. Under the project 26 services of 8 line departments are made available to the citizens through Common Service Centres (CSC) & Lokvani
...
Anshu Rohatgi, Uttar Pradesh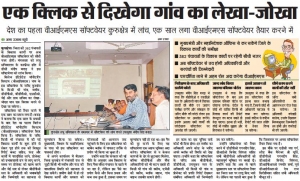 Kurukshetra has become the first district to launch the Village Integrated Monitoring Software (VIMS) to bring transparency to development works being undertaken at the village level. On this event, Sh. Mandip Singh Brar, Deputy Commissioner informed that details of all undertaken works, funds utilization and other things, from beginning to completion, would be available instantaneously to this site. VIMS has been developed by NIC Kurukshetra. This software is designed with the motive
...
Poonam Gupta, Haryana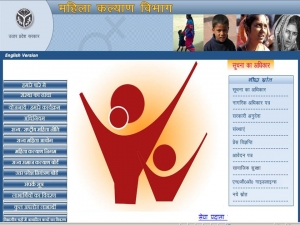 Gone are the days when poor rural women had to run around various government offices and travel across long distances to submit an application for government scheme/service or get a caste, income or domicile certificate. Government of Uttar Pradesh has implemented the eForms application for 26 government services of 8 line departments. Any citizen can apply for these services by visiting a government authorised kiosk near his/her residence. Women welfare and child development department is one
...
Anshu Rohatgi, Uttar Pradesh
SAKSHAM - the scholarship management system of Government of Uttar Pradesh, developed and implemented by NIC, U.P. State Unit, received the NASSCOM 2013 Social Innovation Honour on 13th February 2013 at Grand Hyaat Mumbai. The award was presented to Shri S B Singh Deputy Director General NIC, UP and Shri R H Khan Senior Technical Director NIC, UP by the Chief Minister of Maharashtra Shri Prithviraj Chavan & Minister of Commerce and Industry, GoI, Shri Anand Sharma amidst a gathering
...
Anshu Rohatgi, Uttar Pradesh
Search Online News