News matching with tag "e-court"
Showing 6 to 10 of total 28 items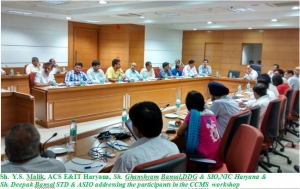 The Court Cases Monitoring System (CCMS) Web based software, developed & hosted by NIC Haryana, is being implemented by most of the departments & PSUs of Haryana. The CCMS is a web based centralized solution having features like: Centralized data input & processing Ease in data updating Query & generation of reports Ease in transmission of the information Easy data storage & retrieval Sh. S.C. Chaudhary, Chief Secretary
...
Poonam Gupta, Haryana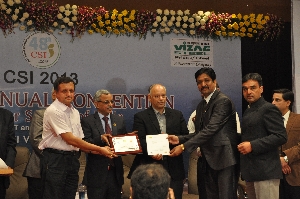 The Interoperable Criminal Justice System-iCJS has been conferred with the CSI Nihilent e-Governance Award of Excellence in the 48th CSI Convention at Visakhapatnam on 14th December 2013. The Award was received by Sh. S.R. Mardi IPS, Additional Director General of Prisons, Himachal Pradesh, Dr. Saurabh Gupta, State Informatics Officer, NIC Himachal Pradesh and Sh. Ajay Singh Chahal, Sr. TD. The awards were presented by Sh. J. Satyanarayana, Secretary DeitY, GoI and Professor S.V. Raghavan
...
Ajay Singh Chahal, Himachal Pradesh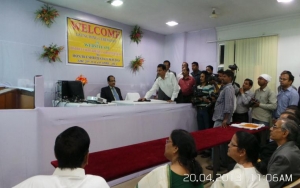 The official website of District Judge court Khurda (http://districtcourtkhurda.nic.in) was inaugurated on Dt-20.04.2013 by Hon'ble Shri Justice M. M. Das of Odisha High Court in the Chamber of District Judge, Khurda at Bhubaneswar in the presence of Shri Debabrata Dash, Hon'ble District Judge, Khurda. This is the 2nd District Judge court website of Odisha after District Judge court Cuttack. Speaking on the occasion Hon'ble Justice Shri Das explained about the benefit
...
A. K. Hota, Odisha
The website of District Court, Cuttack (http://districtcourtcuttack.nic.in) was inaugurated by Hon'ble Chief Justice (acting) of Odisha High Court Shri Pradip Kumar Mohanty on 19th January 2013 at the premises of District Court, Cuttack. The inauguration ceremony was presided by Shri Satrughana Pujari, District Judge of Cuttack. The website is developed by NIC, Cuttack District Unit, DIO Smt Mamata Khamari and DIA Smt Itishree Nanda with guidance from the Portal Group,NIC
...
A. K. Hota, Odisha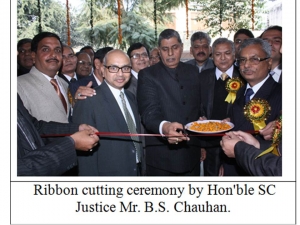 Hon'ble Justice of Supreme Court of India Shri B.S Chauhan inaugurated the automated judicial service center and computer server room at Muzaffarnagar, Uttar Pradesh on 8th December 2012. The occasion was also graced by the presence of Hon'ble Administrative Judge, Muzaffarnagar Justice Shri. Dileep Gupta, Registrar of High Court, Allahabad Shri Annat Kumar, District Judge Smt. Rama Jain and Bar Associations members. Additional District Judge Shri Ghanshyam Pathak, and Technical Director/
...
Anshu Rohatgi, Uttar Pradesh
Search Online News