News matching with tag "Data Centre"
Showing 56 to 60 of total 63 items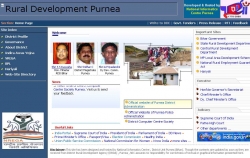 Constituted in the year 1813 the Purnea District comprises the eastern most part of the alluvial North Bihar plain. The name district was derived from the lotus flower, which was found in abundance in the past in the canal of Kosi and Mahananda rivers. Situated along the border of West Bengal & Nepal, Purnia district itself deserves the status of one of the oldest district in India. The District is moving ahead in keeping pace with the latest trends in ICTs and new happenings are on cards in coming days.
Gautam Kumar Mishra, PC Sahoo
Adorned by hills and plateaus, spreading natural splendor with sparkling rivers amidst dense forests, harboring variety of flora and fauna, West Singhbhum, situated in the southern part of Jharkhand state. The largest district of the state, came into being in 1990, when the erstwhile Singhbhum district was bifurcated, with Chaibasa as its district headquarter. Tribals, constituting majority, producing exotic agro forestry products for their livelihood, have a unique charm and provide tourists an insight to their ethnic legacy.
Adyapada Tripathy
National e-Governance Plan (NeGP) is one of the landmark programmes of the department. It has been operational for some time now. How is it shaping up the e-Governance landscape in the country?
Inhouse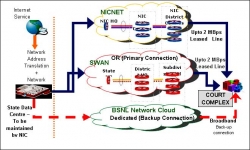 ICT enablement of judiciary is being pursued vigorously across the world. In India, ICT enablement of higher judiciary started in early nineties, covering the Supreme Court and all the 21 High Courts. Today, we have reached a stage where deployment of ICT in Supreme Court and the High Courts has reached a significant level of maturity. However, the lower judiciary, district and taluka courts across the country are largely untouched by the ICT revolution.
CLM Reddy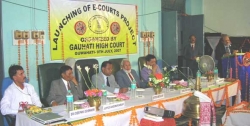 Assam - popularly called the land of red river and blue hills, famous for its tea and one-horned rhinoceros, dominated by the mighty river Brahmaputra, is the gateway to the northeastern India. The state has a large number of tribes each unique in it's tradition, culture, dresses and exotic way of life. The people of Assam have traditionally been craftsmen. Artists, sculptors, masons, weavers, spinners, potters, goldsmiths, artisans of ivory, wood, bamboo, cane and hide. Assam is renowned for its exquisite silks namely Eri, Pat and Muga silk.
Deepak Goswami, Tasiruddin Ahmad
Search Online News