Launch of Administration of Incentives to MSMEs (AIM) by Honble Chief Minister, Odisha
A. K. Hota, Odisha
ak[dot]hota[at]nic[dot]in
|
Sep 16, 2017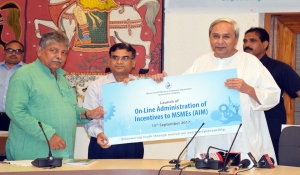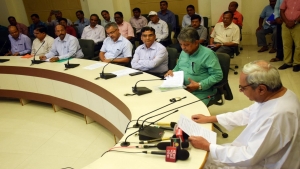 Shri Naveen Patnaik, Hon'ble Chief Minister, Odisha launched the AIM software on 15th September 2017 at Conference hall, Secretariat, Odisha. Shri Prafulla Samal, Hon'ble Minister for MSME, W&CD and SSEPD, Shri Aditya Prasad Padhi, IAS, Chief Secretary, Shri L. N. Gupta, IAS, Addl Chief Secretary, MSME Department, and Principal Secretaries of other Departments were present on the occasion.
Shri L. N. Gupta, IAS, Addl Chief Secretary, MSME Department gave brief description of various features and functionalities of AIM software and how it will drive State Government's initiative to promote 3 T's i.e. Technology, Transparency, and Teamwork in public service delivery.
The software has been developed by National Informatics Center (NIC), Odisha State Center, Bhubaneswar. In MSME sector, applications such as Startup Odisha, Acknowledgement of EIN, Issue of PC, Amendment to EIN and PC are also developed by NIC and implemented. Shri CR Kanungo, Addl SIO, S. K. Bhol, TD, M. K. Das, TD, Sambit Panda, TD, BV Raman, SA were present on the occasion.
MSME Department has made provisions for different incentives under Industrial Policy Resolution (IPR) 2015, MSMED Policy 2016, Odisha Food Processing Policy 2016 for MSMEs. With the launch of AIM, entrepreneurs can apply for incentives and avail the benefits within defined timeframe. AIM will ease the administration of incentives benefiting MSME entrepreneurs where State Government is committed to provide conducive environment for the growth of MSME entrepreneurs.