Chairman Himachal Pradesh Public Service Commission Launches Mobile App for Apple Devices
Sandeep Sood, Himachal Pradesh
sood[dot]sandeep[at]nic[dot]in
|
Sep 6, 2017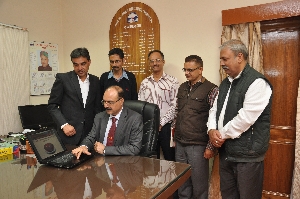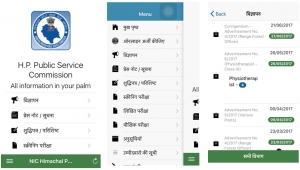 The  Chairman, Himachal Pradesh Public Service Commission, Maj Gen Dharam Vir Singh Rana, AVSM (Ati Vishisht Seva Medal), SM (Sena Medal), VSM (Vishisht Seva Medal) launched the iOS (Apple) platform Mobile application of HP Public Service Commission on 31st August 2017 at Shimla, which is now available on the Apple App Store. While releasing the App, the Chairman expressed hope that this App is a milestone, as it supplements the already released Android Mobile App and in bringing the transparency in the whole system. With this launch, the HP Public Service Commission has achieved the target of meeting almost 99% Smart phone user base.
During the launch of the App, Sh. Ajay Singh Chahal, SIO NIC HP, Sh. Sanjay Sharma, Technical Director, Sh. Daljeet Singh Rana, Scientist-D, Sh. Manoj Tomar Joint Secretary HP PSC, Sh. C.M. Chauhan, Programme Officer, HP PSC were present on the occasion.
The Himachal Pradesh Public Service Commission (HPPSC) has launched this mobile app on iOS (Apple) platform to help applicants with easy access to information related to various recruitment processes being carried out by the commission from time to time. All the information related to Vacancies, Exams, Results, Answer Key, Advertisements, Corrigendum/Addendum to existing notifications etc are made available on the mobile device.
The HP PSC Mobile App has been designed in such a manner that it can be replicated by any State Public Service Commission and the earlier released Android version has received thousands of downloads with good ratings. The Uttrakhand Public Commission has sent their request to replicate it in their Commission and work has been completed to make available both version to the UK PSC.
The App provides auto-alerts on any updation being done on the website of the Commission and content is categorised based on its type and directly downloadable. The app is so designed that information once accessed is stored on the device so that the information once accessed can be viewed even in the absence of internet connectivity. The newly hosted information is marked with a New sign which prompts the users to get immediate notice of new content being published by the Commission.
The Mobile App has been designed and developed by the Competence Centre for Mobile Application Development, NIC Himachal Pradesh on iOS platform. Sh. Sandeep Sood, Technical Director, Sh. Amit Kanojia, Scientific Officer, SB have worked on developing this state of the art app, with the necessary back-end.