Honourable CPS Rural Development, Himachal Pradesh Launches the Official Website of the DRDA, Hamirpur
Ajay Singh Chahal, Himachal Pradesh
ajay[dot]chahal[at]nic[dot]in
|
Nov 14, 2016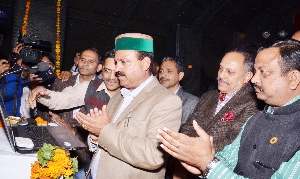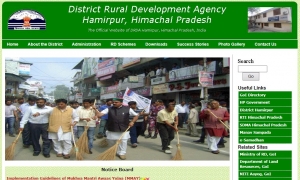 The official website of the District Rural Development Agency, Hamirpur, Himachal Pradesh has been launched by Sh. I D Lakhanpal, Honourable Chief Parliamentary Secretary (Rural Development), Government of Himachal Pradesh on 9th November 2016 in the Hamir Utasv, a State level fair, at District Headquarters. Sh. Madan Chauhan, IAS, Deputy Commissioner Hamirpur briefed the Chief guest and the audience about the features of the website and its content, which will help the DRDA as well as keep the citizens informed about the latest activities of the DRDA, Hamirpur http://drdahamirpurhp.nic.in/.   
The website has information about the District, DRDA activities, staff position, the various schemes of Rural Development under implementation in the District, photo gallery of events and schemes, list of BPL beneficiaries, SGSY self help groups and their inventory, IAY waiting lists, success stories related to Swacch Bharat Mission, National Rural Livelihood Mission, related links, contacts, etc.
The website has been designed and developed by NIC District Centre, Hamipur in consultation with the State Centre, Shimla. The site has been developed using the Content Management System so that the user can update the content on their own after undergoing necessary training on the CMS system. Sh. Sanjay Sharma, Sh. Vinod Kumar Garg, Sh. Bhupinder Singh and Sh. Sarvjeet Kumar have put in extra efforts to develop and launch the website in a short time.
The Deputy Commissioner, Hamirpur appreciated the role of NIC, Himachal Pradesh in the development, security audit, domain registration and hosting of the website.