National Voter Services portal
Lokesh Joshi,
lokesh[at]nic[dot]in
|
May 11, 2016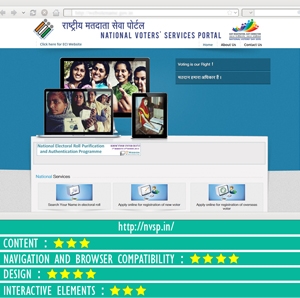 National voter's services portal is owned by the election commission of India which is a permanent Constitutional Body. The Constitution of India has vested in the Election Commission of India the superintendence, direction and control of the entire process for conduct of elections to Parliament and Legislature of every State and to the offices of President and Vice-President of India.
The conscientiously designed portal comes with clear identity elements. The portal provides various online services
to the voters which are presented as tabs on the homepage. These include services like searching for a Name in electoral roll, Applying online for registration of new voter both in India and overseas and correction of names etc. The homepage has a clean look with all the services prominently highlighted. The homepage also features a prominent slider showcasing the objective of the portal. The clutter free interface provides a smooth navigation that is not deep and leads the user to the information /service in one or two clicks.