Ministry of Women and Child Development
Lokesh Joshi,
lokesh[at]nic[dot]in
|
Feb 11, 2016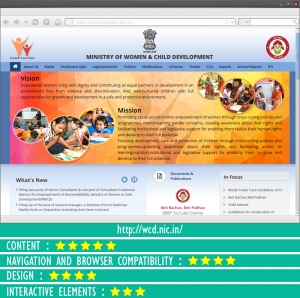 The Department of Women and Child Development, Government of India, came into existence as a separate Ministry  with effect from 30th January, 2006; earlier since 1985 it was a Department under the Ministry of Human Resources Development. The Ministry was constituted with the prime intention of addressing gaps in State action for women and children for promoting inter-Ministerial and inter-sectoral convergence to create gender equitable and child-centred legislation, policies and programmes.
The vibrant website makes rich use of colour and is also a deep-pocketed repository of latest information. It caters to the information needs of various stakeholders by providing access to all the policies and guidelines issued by the Ministry. Schemes related to women and children are prominently showcased on the homepage.
A visitor can easily navigate from one section to the other without any difficulty. A clutter-free responsive design helps the user to find content as per their needs and requirements on desktops as well as all handheld devices. All content of the website is well categorized and displayed in a structured manner.
The website is compliant with GIGW guidelines. The website is bilingual with both Hindi and English versions. The website also offers an interactive element by the use of online Feedback form so that the users can share their suggestions. The sitemap is also incorporated and covers the links up to the last level. Site search module has also been provided in the header of the site. Accessibility features such as skip to content, font size increase and high contrast have been provided to facilitate ease of use of visitors with visual impairments and low vision. The ministry has a significant presence on social media including Facebook, twitter and you tube.