National eGovernance Gold Award for Integrated Online Hotels Reservation System of NIC Himachal Pradesh
Ajay Singh Chahal, Himachal Pradesh
ajay[dot]chahal[at]nic[dot]in
|
Jan 30, 2016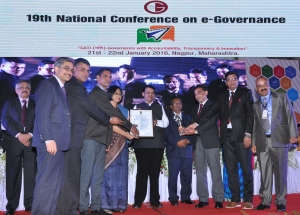 The Integrated Online Hotels Reservation System of HP Tourism Development Corporation, developed by NIC Himachal Pradesh, has been conferred with the Gold Icon National eGovernance Award under Category-X- "Innovative use of Information Communication Technology by State Government PSU/ Cooperatives/ Federations/ Societies" for the for the year 2015-16. The National eGovernance awards have been presented during the 19th National eGovernance Conference held at Nagpur during 21-22 January 2016.
Hon'ble Chief Minister of Maharashtra, Sh. Devendra Fadnavis presented the award to the winning team in the National Conference. Hon'ble Union Minister of Transport, Sh. Nitin Gadkari and Hon'ble Minister of Administrative Reforms, Dr. Jitendra Singh were present during the inaugural session of the Conference. The award was received by Ms Priyanka Basu Ingty, Director IT, GoHP, Sh. Gopal Sood, Manager IT HPTDC, Sh. Ajay Singh Chahal, SIO NIC HP, Sh. Sandeep, Sood, Sh. Sandeep Kumar, Sh. C L Kashyap and Sh. Bhupinder Pathak. Sh. Sanjay Sharma and Sh. Amit Kanojia are other key members of the NIC HP Team.
Two papers of NIC Himachal Pradesh officers have also been published in the Compendium of Papers of the 19th National Conference on eGovernance. These are authored by Sh. Ajay Singh Chahal, Sh. Bhupinder Pathak, Sh. Sandeep Sood, Sh. Lalit Kapoor and Sh. Pankaj Gupta.
The Integrated Online Hotels Reservation System is an innovative and exemplary system as on date. The web enabled application software system is integrated with travel portals and mobile app in online and real time mode. The exchange of data and information over various platforms is done using secure WCF web services in online mode only. Guests have all information available with them online in transparent manner including comparisons of nearby hotels and other private hotels on all parameters such as tariff, promotional offers, facilities and amenities etc. therefore, guests do not have to interact or ask for various related information and facilities from various hotels and such unnecessary steps have been eliminated, for making a reservation of choice by the guests. It is fully supplemented by SMS and Email based alerts to customers. The initiative has enabled HPTDC to increase its business.
The iOHRS has been developed by National Informatics Centre, Himachal Pradesh and is operational in the Corporation since year 2000 and has been upgraded from in 2005. Major upgradations have been incorporated in the system from the year 2013-14 onwards to make it more user friendly and integrated with all tourism platforms. Now it supports Mobile based bookings through Android phones/tablets, integrated with major travel portals and uses latest technology available in the tourism industry.