Haryana : e-Dashboard for Poll Management in Elections Project received Skoch Order of Merit Award 2014
Poonam Gupta, Haryana
poonam[dot]g[at]nic[dot]in
|
Sep 26, 2014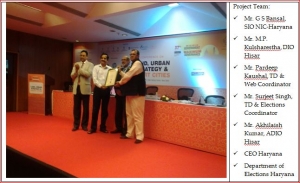 A unique web portal having e-Dashboards for monitoring polling process  on pre-polling day, polling day and  on counting day from across the state and dissemination of key information instantaneously on Internet was developed & implemented in close coordination with CEO Haryana.  NIC's SMS gateways and Internet was used for easy and quick updation of data on e-Dashboards. Additionally, a centralized web enabled Standard software for capturing employees data directly from their offices and randomization of Polling parties  formation and EVMs implemented across Haryana during Lok Sabha General Elections 2014. 
The Uniqueness of the Innovation involved:
1.Use of centralized database of employees from e-salary for polling parties formation.
2.SMS  and Internet based voter help lines for polling station details.
3.Direct updation of Poll day e-Dashboard by sector supervisors through SMSes using NIC SMS Gateway. Direct Updation of Counting day e-Dashboard from counting centers.
4.Web based communication plan containing details of all field officials with easy to use search facility.
5.Direct Interaction with all field staff through SMS gateway.  Important instructions were also passed on through SMSes to registered mobile numbers of ROs, DEOs, Sector Supervisors and other officials. SMS alerts and awareness messages to voters in Haryana.
The Project was presented as Haryana's Elections  best practice, in the North Zone Symposiums  on July 25, 2014, organized by  Election Commission and attended by CEO/Election Officers from Punjab, Haryana, UT Chandigarh, NCT of Delhi, Uttrakhand, Himachal, UP, Rajasthan and J&K. Implementation of poll day and counting day e-Dashboards and other ICT initiatives  in the upcoming Haryana assembly elections 2014.