Ms. Kiran Dhingra, IAS, Secretary, MOPR, Govt. of India appreciated ICT initiatives at Ganjam District, Odisha
A. K. Hota, Odisha
ak[dot]hota[at]nic[dot]in
|
Nov 30, 2011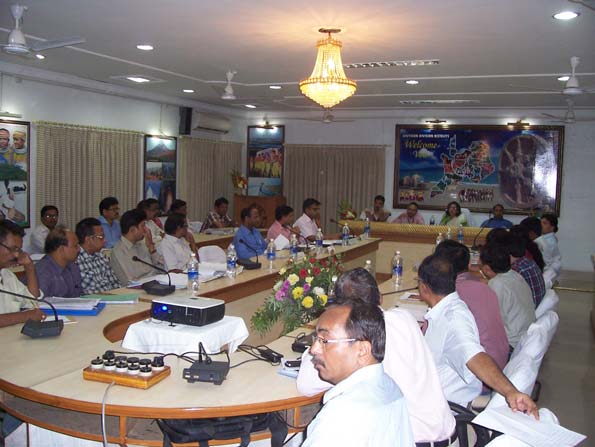 On 21-11-2011 a high level team of Govt. of India led by Ms. Kiran Dhingra, IAS,  Secretary, Ministry of Panchayati Raj, GOI visited various Gram Panchayats, Block Panchayats and Zilla Panchayat of Ganjam district to review the various schemes implemented by Govt. of India and ICT initiatives undertaken at G.P. and Block level.
The dignitaries in the team include Shri  Sushil Kumar, IAS, Joint Secretary, MOPR, Govt. of India, Technical Consultants of MOPR, Shri P. K. Jena, IAS, Commissioner-cum-Secretary, Panchayatiraj and IT., Shri Aurobinda Padhee, IAS, Director Panchayatiraj, Dr. Krishen Kumar, IAS Collector, Ganjam and Shri M. Muthu Kumar, IAS, Project Director, DRDA, Ganjam. From NIC, Shri Rajeev Goel, TD, NIC- New Delhi,  Shri Bibhu Prasad Mishra, TD,  NIC - Odisha State Unit and Shri Subash Chandra Misra, DIO, NIC, Ganjam, accompanied  the high level team.
During the visit, the team reviewed the implementation of PRIASOFT and PLANPLUS software developed by NIC.  Visiting the Darubhadra Gram Panchayat Computer Centre, the team reviewed the Priasoft implementation. The Gram Rojagar Sevak (GRS) presented the online process and various reports generated through the s/w.
 At Hinjili Block Panchayat office the team visited 20 seated LAN hall of the Block where Sri Rajeev Goel, TD, NIC Hqr, presented various features of Planplus s/w. The team went through how citizen can suggest a wish online, plans are generated at Gram Panchayat, Block Panchayat and Zilla Panchayat level and then approved by DPC. 
In the evening Ms. Kiran Dhingra, IAS Secretary, Ministry of Panchayati Raj, took a high level review meeting  at RDC(SD) Conference hall at Berhampur. 
Expressing her satisfaction over the ICT initiatives taken at grass root level, she highly appreciated the effort of NIC.
- Subash Chandra Misra, DIO, N.I.C., Ganjam.