Administrative Skill Development Centre (ASDC) along with Computer Lab inaugurated by Sri Bijay Kumar Patnaik, IAS, Chief Secretary, Odisha
A. K. Hota, Odisha
ak[dot]hota[at]nic[dot]in
|
Feb 28, 2013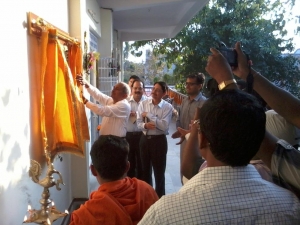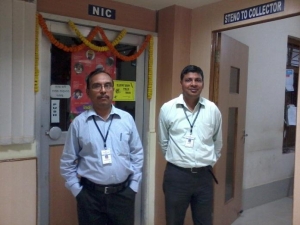 Administrative Skill Development Centre (ASDC), an innovative idea of Dr. Krishan Kumar, IAS, Collector, Ganjam, saw its light on 26th Feb 2013 with inauguration of  state of the art Skill Development Centre by Shri Bijay Kumar Patnaik, IAS, Chief Secretary, Odisha.
This center is dedicated for the skill development of the officers and staffs of all the offices of the district. It has been planned to hold training programmes round the year on various aspects of governance. The centre is having the facility of computer lab equipped with 25 systems which is going to be a major epicenter of e-Governance being managed by NIC, Ganjam.
Inaugurating the centre, Chief Secretary interacted with all senior officers of the Collectorate and enquired about   e-Governance initiatives in the district.  Shri Subash Chandra Misra, DIO, Ganjam presented in detail about   various e-Governance projects implemented by NIC   like Land Records, , e-Abhijog, Prerana (e-Scholarship), GIS,  NADRS, Recruitments, Election, e-District etc.  It is worthwhile to mention that NIC, Ganjam has already conducted training for 5 batches of collectorate staff since January 2013 as a pre-inauguration initiative. Chief Secretary expressed his pleasure for the initiatives of NIC & overall effective implementation of e-Governance projects in Ganjam district.
Dignitaries present during occasion include Revenue Divisional Commissioner (South), Superintendents of Police of Ganjam and Berhampur and other senior officers of the district.