Use of ICT for Delivering Mechanized Agricultural Implements made Odisha bag National Award in 16th NCeG
A. K. Hota, Odisha
ak[dot]hota[at]nic[dot]in
|
Feb 25, 2013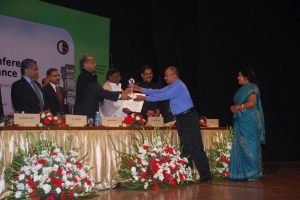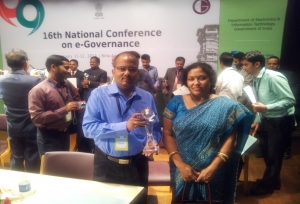 Mechanized agriculture is the process of using agricultural machinery to greatly increase the productivity.  Govt. of Odisha is assisting farmers with subsidy to procure different farm implements. Under the able guidance of the Director of Agriculture and Food Production (A&FP), NIC Odisha State Unit has developed and rolled out the online monitoring system to bring transparency and accountability in the delivery of implements to the farmers and online payment of the subsidy to the vendors.
In last two years 44028 applications have been processed online with successful delivery of Rs.82.13 crore to 14189 beneficiaries.
G2G, G2B and G2F services provided by the system has been recognised at the 16th National Conference on e-Governance 2012-13, with National Award for outstanding performance in 'Citizen-Centric Service Delivery' category.
 The award was received by Shri. R. S. Gopalan, IAS, Director, Directorate of Agriculture & Food Production and Smt. Sarita Sahoo, AGRISNET Coordinator, Scientist-'D', NIC Odisha from Shri Ashok Gehlot, Hon'ble Chief Minister of Rajasthan and Shri. V. Narayanswamy, Hon'ble Minister of State for PMO and Administrative Reforms. Shri S.K. Panda, DDG & SIO, NIC Odisha congratulated the team for the efficient delivery of services.