Launch of National Animal Disease Reporting System (NADRS ) in Odisha
A. K. Hota, Odisha
ak[dot]hota[at]nic[dot]in
|
Feb 5, 2013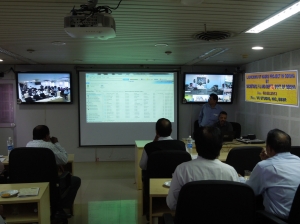 The launching of National Animal Disease Reporting System (NADRS ) in Odisha was organized in a meeting through Video Conferencing on 02-02-2013 at 12:30 PM at NIC, Bhubaneswar. Secretary, Fisheries & Animal Resources Development Sri Satyabrata Sahoo,I.A.S  chaired the meeting for the said occasion.
 The meeting was attended among others by Director,A/H Sri Benudhar Dash, IAS, Joint Director, Dr. U. C. Patra, Dy. Director ( Disease Control ) Dr. N.Chaudhury, Nodal officer Dr. S.K.Mohanty, Chief Executive Officer, Odisha Livestock Resources Development  Society (OLRDS) Dr. Sanat Mishra and other officers of A/H Directorate  along with Nadrs coordinators NIC and BSNL officers. DIOs and CDVOs of districts attended the meeting through VC.
In the beginning of the meeting , R.Sahu, Technical Director & NADRS coordinator welcomed the Secretary and other officers  and presented the latest status report on the progress made for the implementation of NADRS project in Odisha with active support from SIO and NIC district centres. It was mentioned that all SNR issues had been resolved and computer and peripherals had been installed at all 345 nodes. In order to over come tedious call logging procedure of WIPRO, NIC state centre has developed a  web based hardware complain monitoring system by which user can easily lodge the complain by click of a mouse. Secretary was  also appraised of completion of 2-days basic computer training , 5-days application training for district and block level A/H officers. DIOs of NIC district centre will further organize 1-2 days training before the start of actual data entry this month. He was also informed of setting up and functioning of State Project Monitoring Unit at A/H Directorate and NADRS review committee headed by SIO at NIC state centre.
A/H Directorate is also conducting monthly review meeting for hardware maintenance and VPN conductivity, it was added. VPN connectivity which is a major and vital component of the project has been completed in more than 150 location out of about 300 feasible nodes. After that, a small presentation on NADRS project was conducted by Sri A.K.Behera,SSA and Sri P.K.Mishra,SSA.
Secretary then declared the Launching the NADRS project in Odisha with effect from 02-02-2013 before National Launch on 6th Feb-2013. He wanted all feasible sites to start uploading data after 8th Feb when NADRS server will open for data entry.  He also reviewed few district having  poor VPN connectivity status. He praised Koraput ,Rayagada, Nuapada, Jagatsingpur and other few districts having good progress of VPN installation . Secretary was also told of commendable effort by DIOs and Nodal Officer Dr. S.K.Mohanty in establishing VPN connectivity so far in Odisha despite it is BSNL's responsibility to do so. Secretary also directed all CDVOs to provide vehicle and other facilities to DIOs in joint visit to NADRS nodes along with BSNL officer for immediate installation of VPN. BSNL people informed that about 20 places VPN connection is not being provided due to lack cable supply.
Secretary also assured nodes to provide hardware support from own dept. having cases of theft and flood damage. He also declared OIC,DDL of each district and VAS & Addl. VAS for each Block as Nodal officers for taking responsibility of NADRS data entry activities and stressed the need for data entry from District Diagnostic Lab where ever feasible.
 The meeting ended with a vote of thanks to the chair.