Shri M. Moni addresses the ASSOCHAM Conference
Mrs. Beena Menon, Delhi
beena[at]nic[dot]in
|
Oct 23, 2012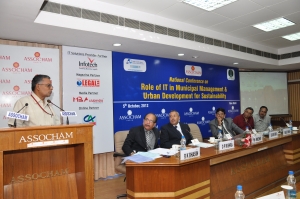 Shri M. Moni, Deputy Director General, NIC address as "Chief Guest" at the ASSOCHAM Conference on IT in "Municipal Management and Urban Development" for Sustainability, held on 5th October 2012 in ASSOCHAM House, New Delhi.
While addressing Shri Moni stressed that improving Municipal Management for, Cities to succeed; and managing them well is crucial, as Cities produce more than 70 percent of its GDP and drive development. He also said that their functional units - Administration, Engineering, Health, Finance, Town Planning & Revenue are to be totally automated with "citizen-centric", ICT enabled integrated Land use & Environmental Planning for sustainable urban development. Municipality need to have workflow system with its residents:  i.e. to have an email server to achieve digital inclusion of its residents and it become a facebook for district, state and central departments.
Mr. Moni in his address exhorted Operationalisation of Urban information System (Municipal information system) and establishment of a National Centre for Municipal Informatics and Computing and introducing Municipal Police System as operationalised in many developed countries.
On digital inclusion, he suggested to establish mail server for each Municipality (i.e. http://emdc.gov.in) for every resident of the Municipality and operationalise end-to-end workflow system with the residents, and also to establish a seamless integration of all functions with a citizen-centric platform. He also emphasized setting up IT Skill Development Centres in all Municipal schools in Delhi, to begin with, with the syllabus of national institute of Open Schooling (NIOS) of the Ministry of Human Resources Development. For this, he advocated ASSOCHAM to take initiative with all the MAYORs of NCT of Delhi.