2nd IVFRT TTP organized at Delhi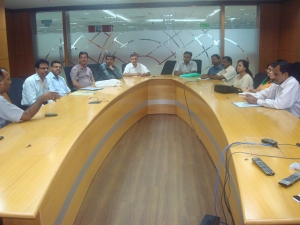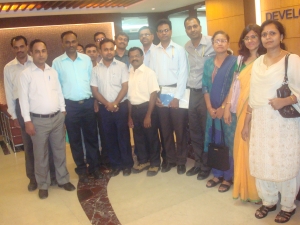 The IVFRT is an MMP (Mission Mode Project) which envisages an ICT based secure and integrated service delivery framework that facilitates legitimate travelers across all missions, ICPs, FRROs and FROs. Capacity building plays pivotal role in the success of such MMP. In order to equip our state Coordinators with technical details of IVFRT project, a three days' 2nd IVFRT TTP (Trainers' Trainee Programme) from 10th to 12th September 2012 was organized at Central IVFRT Office, 3rd Floor, NICSI, DMRC Building, Shastri Park, Delhi. In the above TTP 19 State Coordinators from various states and 6 participants from IVFRT Division from Delhi had participated.
The TTP was inaugurated with the a presentation on IVFRT Overview by Dr. RK Mishra, TD, NIC along with subsequent lecture on Roles and Responsibility of State Coordinators at State as well as district level by Mr. CL Sharma, TD, NIC. The First day was full of technical presentations and live demonstrations of various modules such as Online Visa and PRC systems, C-VISA, Immigration Control System, APIS, LOC and ICP Networking, UCF System and Biometrics Deportee System by respective Module Heads Mr. NS Rawat, Mr. JG Christopher, Mr. Alok Roy Choudhary, Mr. Shambhu Kumar and Mr. Ajay Katoch. On the second day, similar kind of presentations and live demonstrations were carried out on C-FRO, Indian Citizenship, Form-C, Student Registration System and VPN Usage & Policy by Mr. A Ravikumar, Mr. CL Sharma, Mr. Rama Subramaniam, Mr. K. Lakshmanan and Mr. SH Mahmood respectively. On the 3rd day, C-FRO hand's on session was done for the participants with the help of Support Team members. On the afternoon, Mr. P.K.Bhardwaj, JD and Mr. HK Shrama, DD from IB, MHA addressed the participants and also clarified many emerging queries of participants. The entire TTP was well coordinated by Mr. NK Prasad, PSA & IVFRT Training Coordinator with the support of Mr. Rajiv Goel, PSA under the overall guidance of Dr. BN Shetty, DDG, NIC.
Submitted By:
N.K Prasad, Delhi
|
nk [dot] prasad [at] nic [dot] in
Search Online News