ICT support of NIC, Uttar Pradesh in election of Urban Local Bodies.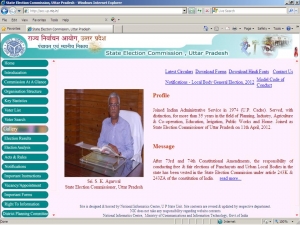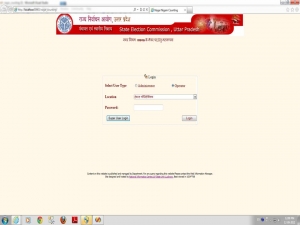 After 73rd and 74th Constitutional Amendments, the responsibility of conducting free & fair elections of Panchayats and Urban Local Bodies in the state has been vested in the State Election Commission under article 243K & 243ZA of the constitution of India. In Uttar Pradesh the State Election Commission was constituted on 23rd April 1994. The first election to the members of the Gram Panchayats, Kshetra Panchayats and Zila Panchayats and Pradhan of Gram Panchayats and Chairpersons & members of the Urban Local Bodies in the plain areas of the state were held in 1995. The Fourth General Election of 3 tier Panchayats was held in Sep-Oct, 2010 and the General Election of Urban Local Bodies (ULB) was held in May-July, 2012.
The ULB elections in Uttar Pradesh are a massive exercise that involves huge manpower support and proper technical interventions for ensuring free-and-fair elections and accurate results. In the recently held general election of urban local bodies in Uttar Pradesh there were more than 2 crore 90 lakh electors and about 35 thousand polling stations. The statistic itself indicates the enormity of operations and the tedious effort required by the State Election Commission to maintain transparency in the electoral process. Thought it is commendable that the state election commission smoothly carried out the whole electoral process from pre-poll to post poll activity. All this would not have been possible without the constant support of ICT (Information and Communication Technologies) which was aptly provided by NIC, UP State Unit and District Centres.
In a democratic setup the fairness of election depends upon two factors, first is vote casting and second is vote counting. All this calls for an effective, efficient and speedy reporting system which enables the citizens to view immediate round by round results of every local body. A comprehensive reporting system was developed by the National Informatics Centre for the Fourth General Election held in 2010 and thereafter during the General Election of Urban Local Bodies held in 2012.
NIC, Uttar Pradesh also provided all technical support at different stages for this challenging task., software applications were developed for different activities such as election personal deployment (EPDS), counting, result processing etc. Regular video conferencing sessions were held for project monitoring and the complete information dissemination was done through the web portal of State Election Department to ensure transparency.
Submitted By:
Anshu Rohatgi, Uttar Pradesh
|
anshu [dot] rohatgi [at] nic [dot] in
Search Online News