Training on Land Records Data Security at NIC, Chandauli (Uttar Pradesh)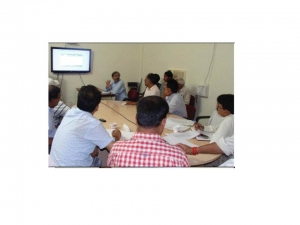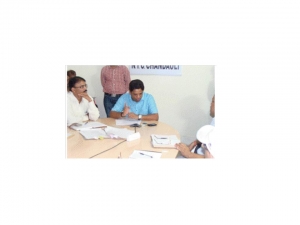 'Bhulekh' is one of the most important e-Governance applications of Uttar Pradesh that has transformed the process of maintenance of land records information and automated the delivery of Record of Rights to the farmers. The manual system has been discontinued and the IT based electronic delivery system has been implemented in all the 312+ tehsils impacting more than 25 million landowners spread across 1 lakh villages and 100 million plot holdings. It is one of the largest ever rolled out IT project in the State to benefit the common masses.
A one day training session was organised on Land Records Data Security, at NIC district unit Chandauli. The session mainly focused on the security issues related to Bhulekh software. ADM (F&R), all SDMs, Tehsildars, Registrar, Kanoongos and computer operators were present during the training programme. The participants were explained the steps for creating user ID's of lekhpal and allocation of villages & khatauni through administrator logins.
District Magistrate Chandauli, Shri Pawan Kumar instructed the participants to follow the guidelines issued by Board of Revenue and provision made in 'Bhulekh' software for land records security. He also reviewed on line data entry & disposal of references received at tehsil divas with concerned data entry vendors & SDM's
Submitted By:
Anshu Rohatgi, Uttar Pradesh
|
anshu [dot] rohatgi [at] nic [dot] in
Search Online News