Capacity Building Programme on Web-based Complaint Management Information System, at OHRC, Bhubaneswar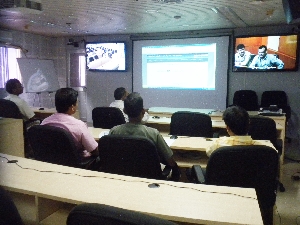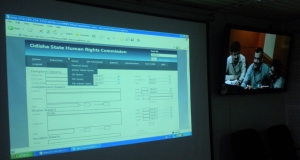 Odisha Human Rights Commission (OHRC), who was using VB/SQL based CMS (Complaint Management System) software ver.5.0, is now ready to switch over to Web based Complaint Management Information System.
To get the officials of OHRC acquainted with the new system one day training program was organized through Video Conferencing at VC-Studio NIC, OSU.
Training was conducted by Sri Shashi Kant Sharma, Technical Director, NIC, New Delhi & his team coordinating National Human Rights Commission (NHRC), New Delhi.
Training was attended by personnel from Legal Section, Diary Section, Judgment Section, Asst. Programmer and DEO of OHRC. Programme was coordinated by Sri Dilip Kumar Mandhata, Scientist-D, NIC Odisha State Centre.
Addressing in the session, Sri Sharma highlighted following features of the Web based CMIS:
1. Increased accessibility to the complainant
2. Duplicity checking of complaint with data of SHRC and NHRC online
3. SMS and Email based electronic communication to the Complainant for sending Immediate Acknowledgement after its registration with the system
4. SMS / Email based order of the Commission will be sent to the authority concerned immediately after signing of the order. A copy of the same is sent to the complainant as well if Mobile / Email id of the complainant is available
5. Email based Auto Reminders to the Authorities (a kind of an Alert before due date of the order)
6. Improve monitoring mechanism of recommendations made by Commission by providing an ALERT to the system user when it logs in the system
7. Authorities can login to the system and submit the report as prepared by them online. This will attach the report with the complaint, keep it intact with the complaint and can be retrieved as and when desired by the Commission
8. Authorities can monitor themselves about the cases marked by the commission
9. The centralized database for human rights violation complaints across the country
10. State Human Rights Commission can see online all the complaints transferred by the NHRC and can download them for further processing
11. Minimises multiple orders / directions on a single complaint
12. Uniform information dissemination and better analysis of Human Rights violation cases
The features like Complaint entry, Action follow-up, Central Registry entry, Report generation, Reminder generation and different queries for MIS reports etc. were demonstrated.
In the concluding session Sri Mandhata extended gratitude to Sri Sharma for his kind support & conducting the training. He expressed thanks to all the officials and staff of OHRC for taking keen interest and participating in the training.
Submitted By:
A. K. Hota, Odisha
|
ak [dot] hota [at] nic [dot] in
Search Online News