Inauguration of 26 G2C Services at Chandauli, Uttar Pradesh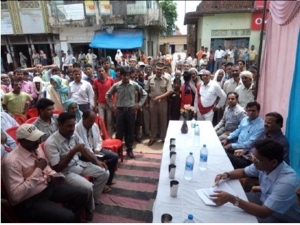 One of the much awaited SSDG and eforms project was launched on 1st August 2012 at Chandauli, Uttar Pradesh by Shri Pawan Kumar, District Magistrate, Chandauli. He inaugurated the services from the Naubatpur Common Service Centre (CSC) in Berhani Block. The project seeks to automate 26 G2C services, including Birth Death, Caste, Income & Domicile Certificates, application for pension and other social welfare schemes, ration card and employment registration etc. All these services will be provided to the common man right at his/her doorstep. They will be able to download forms, apply and collect certificates from the nearest Common Service Centres.
While addressing the press, Shri Pawan Kumar explained the facilities being extended to the citizens of the district and the state under the project. He informed that the citizens will no longer have to visit various government departments, in order to access these services. He also emphasised on the role of the government officials in making these services easily available to the citizens. To ensure that these services are delivered within the given time frame, electronic processes have replaced the manual processes and the approving authorities will be digitally signing the certificates in place of manual signatures. This will also allow online verification of certificates issued through the system.
The citizen too will be able to track their application till final delivery of certificate/service through the application reference number being provided to the citizens as soon as they submit the application electronically. The acknowledgement receipt provided to the applicant, will also mention the expected delivery date of certificate/service.
The SSDG and eform project was also inaugurated at four other places CSCs in different tehsils and blocks of Chandauli by Respective ADM, Tehsildars and BDOs.
Submitted By:
Anshu Rohatgi, Uttar Pradesh
|
anshu [dot] rohatgi [at] nic [dot] in
Search Online News