e-Governance Services launched by Jammu Municipal Corporation for the citizens of Jammu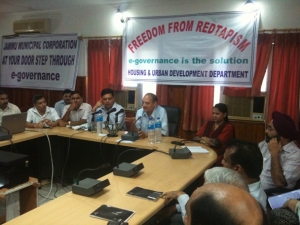 Principal Secretary Housing and Urban Development Department, J&K, Mr. Suresh Kumar, IAS formally dedicated the E-Governance Services to citizens of Jammu in a very simple and impressive function held at Deputy Commissioner Office Jammu on 06/08/2012 in presence of media personals and citizens of Jammu.
Among those who were present in the function were Vice Chairman JDA Mrs. Sarita Chouhan IAS, Deputy Commissioner Jammu Mr. Sanjeev Verma IAS, Municipal Commissioner Jammu Mr. Kuleep Khajuria, Technical Director & Projector Co-coordinator Mr. Jit Raj, Officers of Municipal Corporation and prominent Citizens of Jammu. Other NIC Officer present during the occasion were Mr. Harbaksh Singh, Project Associate, Mr. Rakesh Jamwal, Project Associate, Mr. Sanjay Gupta, District Informatics Officer Jammu, Mr. Sanjeev Kapoor, District Informatics Associate Jammu.
In a brief interaction with citizens of District Jammu, Principal Secretary emphasized the need for such E-Governance models for the speedy delivery of services to the citizens like Birth Certificates, Building Permissions, and Public Grievances etc. Earlier, demonstration of all the work flow based applications was provided to the officers of the various departments present on the occasion and also to the citizens and their queries was re-addressed. Principal Secretary enjoined upon all the departments to adopt the system for easing the movement of citizens.
Principal Secretary also handed over some building permissions to citizens of Jammu falling within the purview of Jammu Municipal Corporation. Citizens expressed their satisfaction over the system and congratulated the Housing & Urban Development Department for this great and unique initiative, which will bring lot of respite to the people of J&K.
Principal Secretary finally acknowledged the hard work of the entire NIC team at Jammu & Kashmir and Pune for their un-tiring efforts in bringing up such a transparent system for the benefit of common masses. With initiation of such a model, citizens can now get access to their birth record anywhere around the globe. Even in case of Building permission system citizens are updated about their movement of permission cases through SMS services, which are a first of its kind in the state of J&K and also through WEB portal http://jkhudd.nic.in.
Submitted By:
Jit Raj, Jammu And Kashmir
|
jit [dot] raj [at] nic [dot] in
Search Online News