Eastern Coalfields Limited (ECL), the oldest subsidiary of Coal India Limited (CIL) joined in GePNIC movement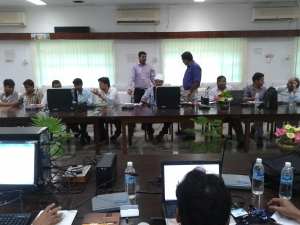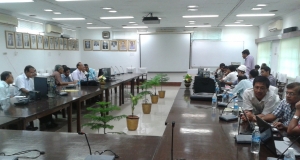 Eastern Coalfields Limited, which boasts of the deepest underground coal mine in Asia is the oldest subsidiary of Coal India Limited situated in West Bengal and parts of Jharkhand. It is known for its superior grade of coal with high heat content suitable for steel making.
ECL, inspired by successful implementation of e-Procurement at MCL expressed their interest to adopt GePNIC to bring transparency in the tendering process in early 2011. NIC Odisha teams headed by Shri A. K. Hota, Technical Director visited ECL in May and July 2011 to present the software to the board of Directors of the company. The project was duly approved by ECL board in the month of June 2012.
The first sensitization workshop was conducted at ECL headquarters, Sanctoria, Asansol, West Bengal from 18/07/2012 to 20/07/2012 by team NIC comprising Shri M. Manivannan, STD, NIC Chennai, Shri Tapan Prakash Ray, TD and Shri Nihar Ranjan Biswal, PSA, from NIC Bhubaneswar.
All directors, CGMs, GMs and senior officers from 14 different areas of ECL participated in the workshop. On day one presentation on journey of GepNIC since 2007 was given by Shri Manivannan, STD followed by general features, security aspects etc. Next, a full cycle of tendering was demonstrated to the participants and their queries were answered. On day two hands on sessions for departmental officers were organized. All the officers completed one full cycle of tendering using the demo site. The third day was dedicated for the bidders. A good no of bidders who were present were explained the advantages of eProcurement system followed by live demonstration of portal registration and bidding process. The bidders' community welcomed the initiative of ECL and NIC.
In the morning session of first day, Director (Technical) Opn & P&P Shri Subrata Chakrabarty, Director (Personnel) Shri S. K. Shrivastava, Director (Finance), Shri A. K. Soni, CVO, Shri P. K. Sinha addressed all the officers and expressed that with the introduction of eProcurement in ECL a new era would begin with greater transparency and reduced tender cycle would be beneficial to both ECL and the bidders.
Shri Debal Gangopadhyay, GM, CMC, Shri D. P. Singh, Project Manager, eProcurement and Shri P. S. De, Chief Manager (Mining) coordinated the workshop from ECL side.
NIC members were felicitated by ECL Directors with presentation of mementoes.
After the workshop the NIC team met the CMD of ECL Shri Rakesh Sinha who expressed his happiness that the process of rolling out of eProcurement has begun. He sought NIC's help to design a system to keep track of movement of vehicles carrying coal from source to destination and to manage lands possessed by ECL using digitisation. Shri Manivannan, STD assured all cooperation from NIC side. Shri Sushanta Mazumdar, TD & DIO Burdwan also attended the meeting.
Submitted By:
A. K. Hota, Odisha
|
ak [dot] hota [at] nic [dot] in
Search Online News