eForms training session at Kaushambhi, Uttar Pradesh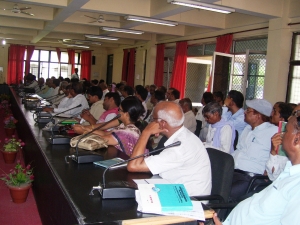 Government of Uttar Pradesh has decided that the eForms project under NeGP will be will be functional across the state from 1st August 2012. The project seeks to provide 26 government services of eight line departments to the masses living in remote and far-flung areas of the state. About 17000 Common Service Centres (CSCs) being established in the villages will enable a citizen to download application forms and obtain digitally signed certificates at the nearest CSC.
Age old manual processes have been modified through Government Orders to incorporate the electronic process flow and build service levels through 'Janhit Guarantee Act'. To ensure the proper functioning of the project and acquaint the government officials with the new system training sessions are being conducted in the state. On 11th July 2012, a workshop cum training session was conducted at district Kaushambi. More than 100 participants from eight line departments attended the workshop. District Information Officer (DIO) NIC Kaushmbi, Shri Vineet Kumar Garg explained the complete electronic process flow and function of the digital signature to the participants.
Submitted By:
Anshu Rohatgi, Uttar Pradesh
|
anshu [dot] rohatgi [at] nic [dot] in
Search Online News