eGov workshop at Azamgarh, Uttar Pradesh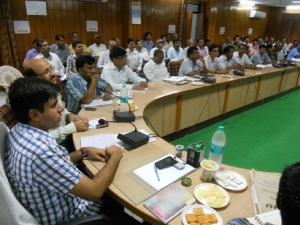 Training was imparted on State Portal, SSDG and e Forms to the government officials and employees of various departments in the district by Shri G. P. Singh District Informatics Officer (DIO) NIC,in the presence of DM Azamgarh Shri Pranjal Yadav, on 10th July 2012. Officials from all the line departments offering services under the project participated in the workshop cum training programme.
During his address Shri Pranjal Yadav emphasised that for efficient functioning of 26 selected services, proper training and online experience is a critical element. He asked the officials to participate in the training programme interactively and get well versed with the new system and procedures.
As per the directives of the state government the project is scheduled to be launched on 1st August 2012, to provide services to the citizens right at their doorstep through Common Service Centers (CSC) and Lokvani kiosks. The launch of these services will not only make citizen centric services available in remote and far flung areas but will also speed up the procedural time of an application. These common service centers will also have the facility to download the application forms and apply electronically for selected 26 government services.
Birth, death domicile, caste, income and pension etc. are some of the services that will be delivered through the CSCs. Digital Signatures have also been integrated with the system to ensure proper and on time delivery of services. Earlier filing of application and issuing of certificates was done manually, but under the new system, the mode of operation of the services has been changed from manual to electronic.
Along with the DM, Chief Development Officer Shri Abdul Samad, SDM Shri J K Singh and other senior district administrative officials were also present in the workshop.
Submitted By:
Anshu Rohatgi, Uttar Pradesh
|
anshu [dot] rohatgi [at] nic [dot] in
Search Online News