Website Review: AIR GUWAHATI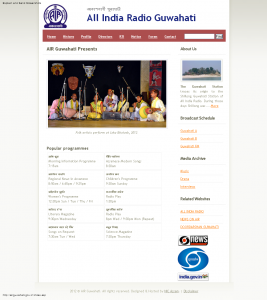 The Guwahati Station traces its origin to the Shillong Guwahati Station of All India Radio. During those days Shillong was the administrative capital of undivided Assam. With three transmissions every day, its broadcasts frequency are Medium wave Guwahati - A Frequency: 729 KHZ Meters: 411.5 Guwahati - B Frequency: 1035 KHZ Meters: 289.9. The broadcast covers 12 major districts namely: Kamrup, Barpeta, Nalbari, Bongaigaon, Kokrajhar, Dhubri, Goalpara, Darang, Sonitpur, Nagoan, Morigoan and Karbi Anglong in languages /dialects like Assamese, Hindi, English, Sanskrit, Nepali, Bodo, Karbi, Tiwa and Rava.

The website is bilingual in nature and it provides content related to broadcast schedule, history of AIR Guwahati, important announcements and audition forms. Most pages have static content and do not demand frequent update. The Notice and Form section have up-to-date information. Few pages are yet to be enriched with content and it would have been better to provide with live streaming of radio broadcasts.

The website has single-level navigation item namely Home, History, Profile, Directors, RTI, Notice, Forms and Contact. The website has sober colour scheme with site-wide header image that containing AIR Guwahati logo. The interactivity is limited to seeking and tracking information related to broadcasts. There is also a contact page displaying contact details. The website is compatible with all the major browsers.


Reviewed By:
Lokesh Joshi, Principal Systems Analyst
|
lokesh [at] nic [dot] in
Search Online News