Website Review: INDIAN MEDICINE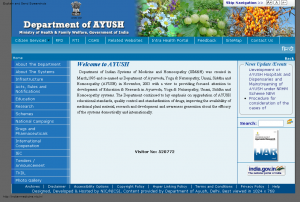 Department of Ayurveda, Yoga & Naturopathy, Unani, Siddha and Homoeopathy (AYUSH) comes under Ministry of Health & Family Welfare, Government of India. AYUSH provides focused attention to development of Education & Research in Ayurveda, Yoga & Naturopathy, Unani, Siddha and Homoeopathy systems.

The website is rich with information about the department, its organizational structure and Infrastructure, research papers, course details, schemes, campaigns, international cooperation, tenders and announcements etc. Users browsing for information related to development in the field of traditional medical sciences will find it useful. IEC (Institutional Ethical Committee) material; IEC Schemes and International Journal of Ayurveda Research available on the website are available for download and print.

The website is user friendly and left page has multilevel navigation menu making browsing easier. Links to other websites and RTI appears prominently on top menu. It has proper compatibility with all major browsers but best viewed in 1024 x 768 screen- resolution. It is diligently designed with use of very few images. The header image prominently displays it logo and the national emblem.

The website offers interactivity in terms o a feedback section with contact details. The site has a clean and well organized layout, compatible with all major browsers.

Reviewed By:
Lokesh Joshi, Principal Systems Analyst
|
lokesh [at] nic [dot] in
Search Online News