Apnakhata (LRC) Wins Award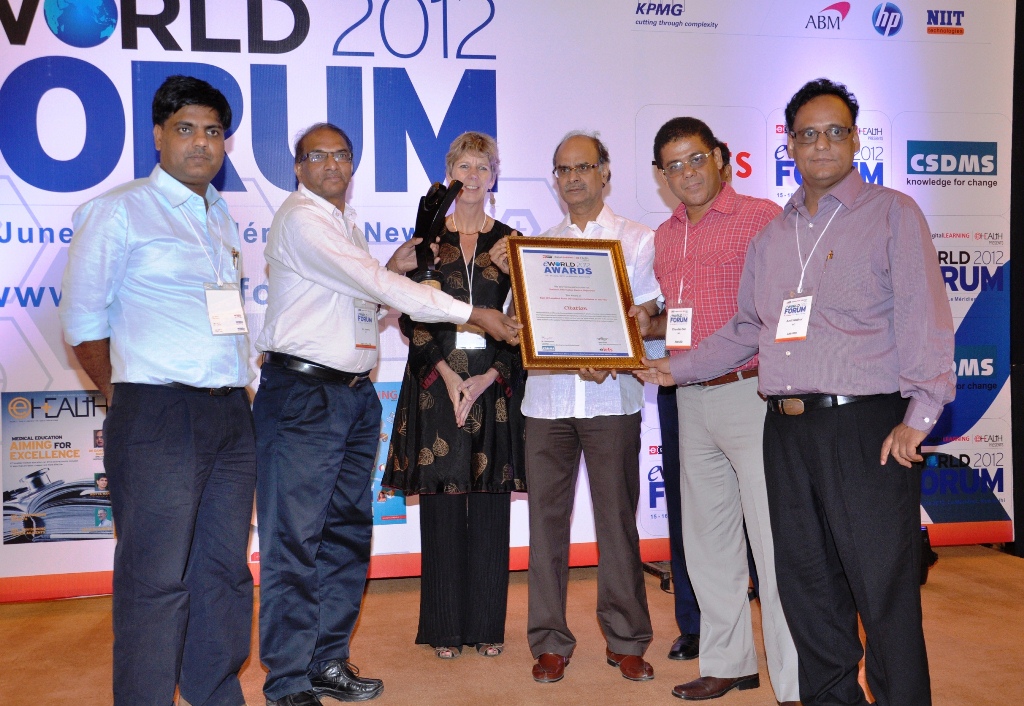 eWORLD 2012 AWARDS
LRC (Apnakhata) Shines Once Again

NIC Rajasthan's LRC Apnakhata once again came out with flying colors. It bagged the prestigious eWorld Forum 2012 Public Choice Award under the under the Best ICT-enabled Rural Development Initiative of the Year recently under the able leadership of SIO Rajasthan Smt. Indu Gupta.
Apnakhata is playing a seminal role in digitally storing information regarding Land in systematic and logical way and making this available in the public domain. This has benefited the rural population of Rajasthan by providing up-to-dated land information and continuing improving the better e- governance services
The award was given at a glittering ceremony at Le Meridien in New Delhi on the 15th June 2012 in the presence of a distinguished gathering. The award was received by team NIC comprising of K.L. Jawaria STD , Prabhakar Garg SSA, Amit Mathur SSA and Chandan Sen TD & DIO Bundi from Ms. Caidlin Wiesen Country Head UNDP, S. Raghunthan IAS Former Chief Secretary Govt. of Delhi , Sh. Anil Shrivastava IAS JDG, DGCA and CMD, Pawan Hans Helicopters Ltd and in the presence of a host of other dignitaries from across eighteen countries including Malasyia, Bangladesh ,Egypt etc. The team received the trophy and a citation from the eWorld Forum. SIO Rajasthan congratulating the team said that ". We are very happy to receive the award. Besides Apnakhata NIC Rajasthan has received many other recognitions from different corners and would continue to surge ahead with quality work and the ICT initiatives in the future as well". Apnakhata had won the well known SKOCH Digital Inclusion Award in September 2011. Awards under various categories were given away at the forum.
At the eWorld Forum in N. Delhi various brain storming sessions and keynote addresses were attended by the NIC team which actively participated in the two day extravaganza. NIC Odisha also won awards on the occasion. A proud moment for NIC-Rajasthan indeed.


Submitted By:
Chandan Sen, Rajasthan
|
chandan [dot] sen [at] nic [dot] in
Search Online News