Ludhiana Central Jail Goes Hi Tech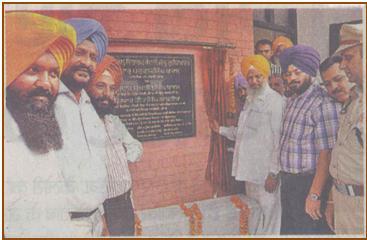 Honble Minister of Jails Punjab Sh. Hira Singh Gabria inaugurated the Prisoner and Visitor Management System in the Central Jail of Ludhiana on 1 Nov 2011. This inauguration was done at a very short notice but was very successful. A large number of people from all the walks of the life were present on the occasion. The Minister took keen interest in the software and understood all features and benefits and praised the efforts put in by all in this endeavor and congratulated all stakeholders for achieving this feat. He also emphasized the need to replicate the system in the other Prisons in Punjab. In his speech he informed that the software is implemented in the same pattern as it is implemented in Tihar Jail but follows the Jail Manual of Punjab. With this inauguration the Punjab has become first state in the Northern India to introduce computerized Visitor Management System.
The system was put to use in Central Jail in June 2011 and it was observed that due to its implementation, the number of visitors have reduced to One third which was great relief to the Jail staff who otherwise were burdened with the rush of the visitors. Not only the number of visitors has come down but the supply of contrabands and mobiles to the prisoners is now also under surveillance as software is acting as deterrent to undesired and frequent visitors.
Inspector General Prisons Punjab also appreciated the efforts put in the implementation of this software by National Informatics Centre and reiterated the need to implement the system in the all the jails of Punjab.

This software has been developed by Prison Division NICHQ and has been customized as per the needs of Punjab by NIC Punjab State Centre and the monitoring and implementation is ensured by NIC Punjab and DIO Ludhiana.

Submitted By:
Vikram Jeet Grover, Punjab
|
grover [dot] vikram [at] nic [dot] in
Search Online News