Haryana: Effective Use of Simple Technology in Election Management Information System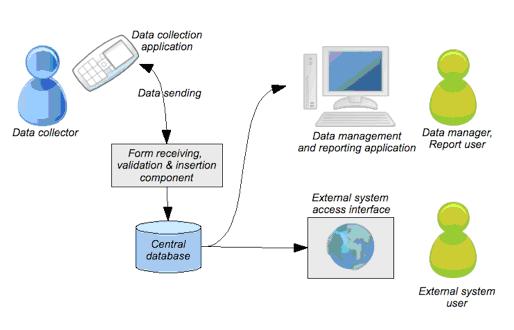 In October 2011, during the bye-poll of 04-Hisar loksabha constituency (59-Bawani Khera assembly segment), District Administration Bhiwani has used the cellular and web technology to monitor the important milestones of pre Election and Election Day activities. As mobile phones are used at large numbers and it was decided to use the SMS facility as a source of authentic and speedy information. A SMS based web application was developed by NIC Bhiwani to collect the progress of poll day activities. This application generates reports like: Party Reached at Booth safely, Voter turn out and booth wise numbers of voters in queue at 5:00 PM. All the stake holders like DEO Bhiwani, SP Bhiwani, ARO Bawani Khera could directly monitor the progress of poll and tackle the problems immediately.
A) Know Your Poll Booth - SMS based utility was developed for all voters who want to know the details like part no, serial no and booth name of his/her EPIC. One has to send SMS by typing VOTE EPIC-ID and send to mobile number 9416203204 which has been attached to server via GSM Modem. The server will respond with Name, Father's Name, Part No, Serial No and Booth Name with location.Predefined format of SMS was circulated to all presiding officers to send specific information. The mobile numbers of all presiding officers were registered in server and only these numbers were authorized to send the SMS.
B) A day Before Poll – Party Reaching Information - To get the party reaching information at control room, presiding officers were instructed to send SMS to Central server. One has to TYPE PR and send to 9416203204. The utility was designed so that it would match the sender's mobile number from the database and made necessary changes in status for the respective booth. A collective report was made available on the desktop of all officers and control room.
C) Election Day Activity - To get the voter turnout on hourly basis and number of votes in queue, TAGs were defined as
(i)VP No of Vote Polled e.g. at 10 AM if 102 vote has been polled, presiding officer send the SMS by typing VP 102 and send it to Central server.
(ii)VQ No of Votes in Queue e.g. at 5 PM if 100 persons are standing in queue for voting, presiding officer send the SMS by typing VQ 100 and send it to Central server.
In this way District Bhiwani was able to get BOOTH Wise fast and accurate information about Vote polled.
During this election, there were 208 booths and mobile numbers of all the presiding officers were registered. On pre poll day we got 181 SMS for party reaching which in turn is 85 percent of the total booth. On the poll day we got more than 750 SMS for voter turnout. This has been proved as effective, fastest and simple method to get the specific information. This facility can be scaled up for getting all type of information like Mock Poll Completed, Poll tarted, Poll Closed, Material Deposited and many more.
Submitted By:
Poonam Gupta, Haryana
|
poonam [dot] g [at] nic [dot] in
Search Online News