Haryana: Visit of Mrs. Sonia Gandhi in Mewat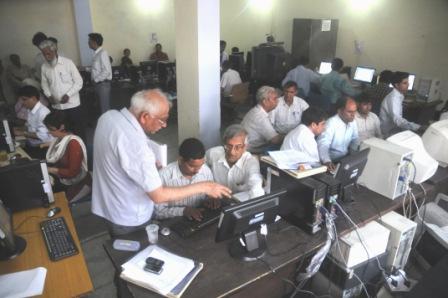 UPA Chairperson Mrs. Sonia Gandhi, who is also Chairperson of National Advisory Council, visited AL-AFIA Civil Hospital at Mandikera Village of District Mewat at Nuh, Haryana on June 01, 2011 for launching 'Janani-Shishu Suraksha Karyakram', a National Initiative for pregnant women and children, an ambitious scheme of the Union Government under National Rural Health Mission. And to dedicate Rajiv Gandhi drinking water supply scheme for the people of 110 villages of district Mewat. A number of Ministers from Haryana Cabinet, alongwith Sh. Bhupinder Singh Hooda Hon'ble Chief Minister Haryana, were also present at the occasion.
District National Informatics Centre Mewat at Nuh was given the responsibility of establishing a hi-tech media centre at NIC-Mewat premises. NIC established the Media Centre for this event. Thirty Desktop Computers, Four LaserJet Printers with LAN connectivity & High Speed Internet Services of NICNET were utilized by 60+ Media Persons & Officials for data communication. District NIC Team dedicatedly worked for this event and successfully completed the task.
Submitted By:
Poonam Gupta, Haryana
|
poonam [dot] g [at] nic [dot] in
Search Online News