Inauguration of Video Conferencing, KIOSK and Website of the Gauhati High Court, Imphal Bench on 11-09-2011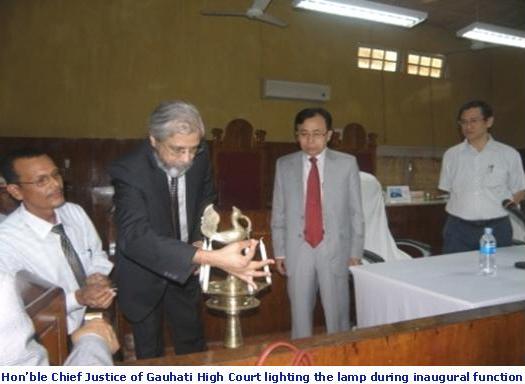 On 11th September 2011, at the Gauhati high Court, Imphal Bench, Hon'ble Chief Justice of the Gauhati High Court , Shri Madan B. Lokur graced the function of inauguration of Video Conferencing , KIOSK and the website ( http://hcmimphal.nic.in) . The web site was designed, developed and hosted by NIC, Manipur and the contents were provided by the Gauhati High Court, Imphal Bench. It provides history of the Court , Court Rules, list of the Advocate Generals, past and present Judges of Manipur, news/notices and advertisement. It allows uploading of Judgment, searching of judgment by case number, Judge name, date wise, Petitioner wise, Respondent wise and Party wise etc. It also provides links to the web site of Supreme Court, High Court and other Benches.
Hon'ble Chief Justice congratulated to the NIC officials for developing this web site and also mentioned that the newly launched Video Conference and the Information Kiosk will not only give benefits to the lawyers and Court officials but also to the respondents and petitioners of the State where communication technology is still lagging behind.
Hon'ble Justice Shri Tayenjam Nandakumar Singh, Portfolio Judge of Gauhati High Court, Imphal Bench mentioned the importance of the facility that will enhance discussions and meetings with other Judges throughout the Country in a big way at the desired time thereby improving Court functionaries more efficiently. It was also mentioned about the ICT support extended by NIC Manipur since 2000 at Gauhati High Court, Imphal Bench.
Shri Kotishwar Singh, the learned Advocate General of Manipur, said that the facility of Video Conferencing if launched in the District Courts and Central jail will reduce the inconvenience of carrying prisoners a long way on which the Government spends large amount of State fund.

: Ch. Swarnalata Devi, Project Co-ordinator.
Submitted By:
M. Budhimala Devi, Manipur
|
bmala [at] nic [dot] in
Search Online News