Workshop on Pilot Implementation of ALFA Automation of Local Fund Audit Project under Finance Department, Govt of Orissa
A. K. Hota, Odisha
ak[dot]hota[at]nic[dot]in
|
May 23, 2011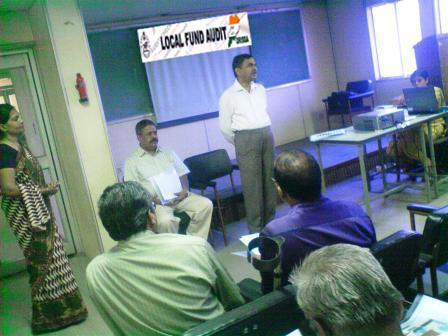 Local Fund Audit is the statutory audit agency in Orissa State under the administrative control of the Finance Department.  This Department is entrusted with the audit of accounts of Local Self Government Institutions (LSGIs) and Local Funds included in the schedule of the Local Fund Audit Act.
NIC Orissa State Centre has taken up the project for automation of various processes under the audit system starting from Annual plan to audit report. And so the web based application has been developed named as ALFA i.e. Automation of Local Fund Audit. To facilitate the pilot implementation a two days workshop cum training programme was organized during 9th and 10th May 2011 at NIC, Orissa State Centre, Bhubaneswar.  
Inaugurating the Workshop Shri S. K Panda, SIO, SIO, NIC, Orissa State Centre, highlighted that the ALFA Portal has been developed with role based architecture to be used by all the staff of Local Fund Audit Office starting from field level Auditors to District Audit Officer along with Audit Superintendents and Examiners.
Shri S. Pattnaik, Chief Examiner of Local Account-cum-Special Secretary to Govt., Finance Department, Govt. of Orissa, applauded NIC for making pilot implementation of ALFA in scheduled time.  Addressing the participants he added that the implementation of the application would facilitate timely preparation of an accurate Annual Plan, making available of Annual Audit Plan Chart to each audit concerned personnel and easy tracking of the audit program execution.
Shri Dilip Kumar Jena, Tech. Director, NIC, presented the general concepts and work flow of ALFA and Smt. Minati Sahu, PSA, NIC demonstrated various features and deliverables of the product. The hands on practice were conducted by all the participants followed by the doubt clearance session. 
The training sessions were conducted by Shri Dilip Kumar Jena, TD and Smt. Minati Sahu, PSA along with Shri S. Sarangi from Local Fund Audit office.
The two-day workshop concluded with very positive and constructive feedbacks from all the participants.