e-Sahooliat (Single Window System) launched at District Kathua, J&K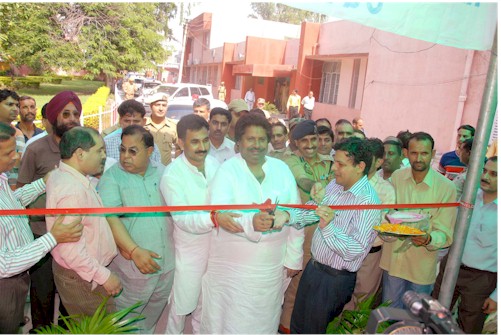 Hon'ble Minister for Revenue, Relief and Rehabilitation, Sh. Raman Bhalla and Minister of State for Information Technology, Dr. Manohar Lal Sharma inaugurated the e-Sahooliat (Single Window System) at Deputy Commissioner's office Kathua on 28th August 2010 in the presence of MLA Kathua Sh. Charanjit Singh, MLC Sh Subash Gupta, DC Kathua, SSP Kathua, ADDC Kathua, ADC Kathua, ACR (R), Kathua, DIO-NIC Kathua and prominent citizens.
Minister said, the Single Window System will facilitates the citizens in issuance of Permanent Resident Certificates, Caste Certificates, Legal Heir Certificates, Fard Intekhab, Income Certificate, Gun Licenses, Voter lists, Dependency Certificate under SRO-43 and other services under one roof without any delay. He asked people to avail the benefits of Single Window System. He further emphasized that with the launch of Single window System, Common man can avail services in an efficient, transparent, convenient, timely and cost effective manner through the use of IT. He also appreciated efforts of NIC Kathua for developing the Single Window Software.
Submitted By:
Jit Raj, Jammu And Kashmir
|
jit [dot] raj [at] nic [dot] in
Search Online News