e Filing of Return For VAT Launched at Ranchi, Jharkhand
informatics, NIC-HQ
editor[dot]info[at]nic[dot]in
|
Sep 23, 2009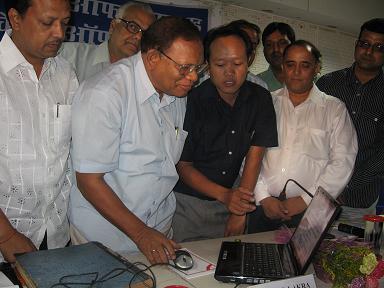 The Department of Commercial Tax, Govt. of Jharkhand got a major boost towards its efforts to simplify Tax returns filing and collection process. The Federation of Jharkhand Chamber of Commerce & Industry (FJCCI) welcomed the efforts of the government in this regard. The dealers registered under the Jharkhand Value Added Tax Act can now file returns online through a secured facility provided at the website http://jharkhandcomtac.nic.in

Shri Wilfred Lakra, Advisor to the Governor of Jharkhand launched the online filing of returns on 15th September'2009 at the FJCCI building, Ranchi in the presence of Shri A K Singh, Secretary, Commercial Tax , Shri Anchal Kinger, President FJCCI and other eminent industrialist of the state. The dealers are required to get their password from the respective circle office and login to the web based system using their allotted TIN no. as the username and enter the security code displayed by the system. On successful login the user will get a screen which shows all types of Return Forms (e.g. Form200, Form213, Form214 etc), the status of previous returns filled online and the details of tax paid etc. The returns can be filed on a monthly or quarterly basis. The users are required to change the password at the first login itself. The details entered can be saved or can be submitted to the department online.

The web based software designed & developed by NIC Jharkhand is hosted on the State Data centre, Ranchi. The overall technical support was provided by Mr. Ng. Zephaniah, Scientific Officer, Mr D Nayak, PSA as the Project Coordinator under the guidance of Mr A K Sinha, TD led by Mr. Shahid Ahmad, SIO, Jharkhand.