#OpenGovtDataHack - Pre-Hackathon Brainstorming Session at KIIT, Bhubaneswar, Odisha
A. K. Hota, Odisha
ak[dot]hota[at]nic[dot]in
|
Oct 27, 2017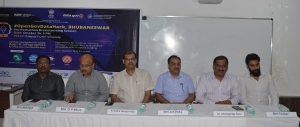 The pre-hackathon Brainstorming session has been successfully organized in Technology Business Incubator (TBI) Campus - 11, Kalinga Institute of Industrial Technology (KIIT), KiiT University, Bhubaneswar on 26th October 2017. The objective of the workshop was to make the participants aware about the process of participation in the upcoming hackathon (#OpenGovtDataHack) scheduled for 28th & 29th October 2017 being jointly organized by IAMAI & NIC.
Dr. Mrutyunjay Suar, Director, School of Biotechnology & CEO, KIIT-TBI, delivered the welcome address and urged the students to take the opportunity to come up with new ideas and showcase their talent for building a better India.
Speaking on the occasion Shri D. P. Misra, Technical Director, NIC Hqr. OGD team, highlighted the salient features of Open Government Data, NDSAP. He showcased achievement of Government of India and also of few states in opening up Government data to public in machine readable format.
Shri R. N. Palai, ITS, Spl. Secretary, Electronics & IT Department, Government of Odisha graced the occasion as the Chief Guest. In his brief and inspiring address he encouraged the students to come up with original ideas & solutions to local problems that may be beneficial to the common citizens. He cited the example of Estonia, a small European country, which is going to be declared as the first digital country of the world. He assured full support of the E & IT Department in spreading the culture of open data among state departments.
Shri Akhilesh of NIC OGD team, discussed about OGD community engagement and problem statements and available datasets. He discussed on the process of development and submission of entries like app, info graphics etc. using the datasets available in data.gov.in & odisha.data.gov.in.
Dr. A. K. Hota, Sr. Technical Director & Head, OGD team, Odisha interacted with students and answered various queries related to hackathon and evaluation process etc. Informing that participation certificate would be provided to all participants, he urged Special Secretary E&IT to sponsor few more awards on behalf of State Government. Dr. Suar added that KIIT is ready to sponsor few more awards also for the participants.
Shri Tushar of Internet & Mobile Association of India (IAMAI) addressed the students and appraised the opportunities that exist for the students who get selected by the jury of the hackathon.
The programme was coordinated by Shri Sitansu of NIC Hq OGD team and NIC Odisha OGD team members Shri Tapan Prakash Ray, Sr. TD, Shri Malay Pattanayak, TD, Dr. Ashis Mahapatra, TD.
About 100 students drawn from various colleges attended the workshop.
The vote of thanks was provided by Dr. Mrutyunjay Suar, CEO, KIIT TBI. He assured all logistic support to the participants for the hackathon event on 28th & 29th Oct.