Inauguration of e-Advertisement (An ICT based solution for Digital Delivery of Release Order & Advertisement)
A. K. Hota, Odisha
ak[dot]hota[at]nic[dot]in
|
Sep 4, 2010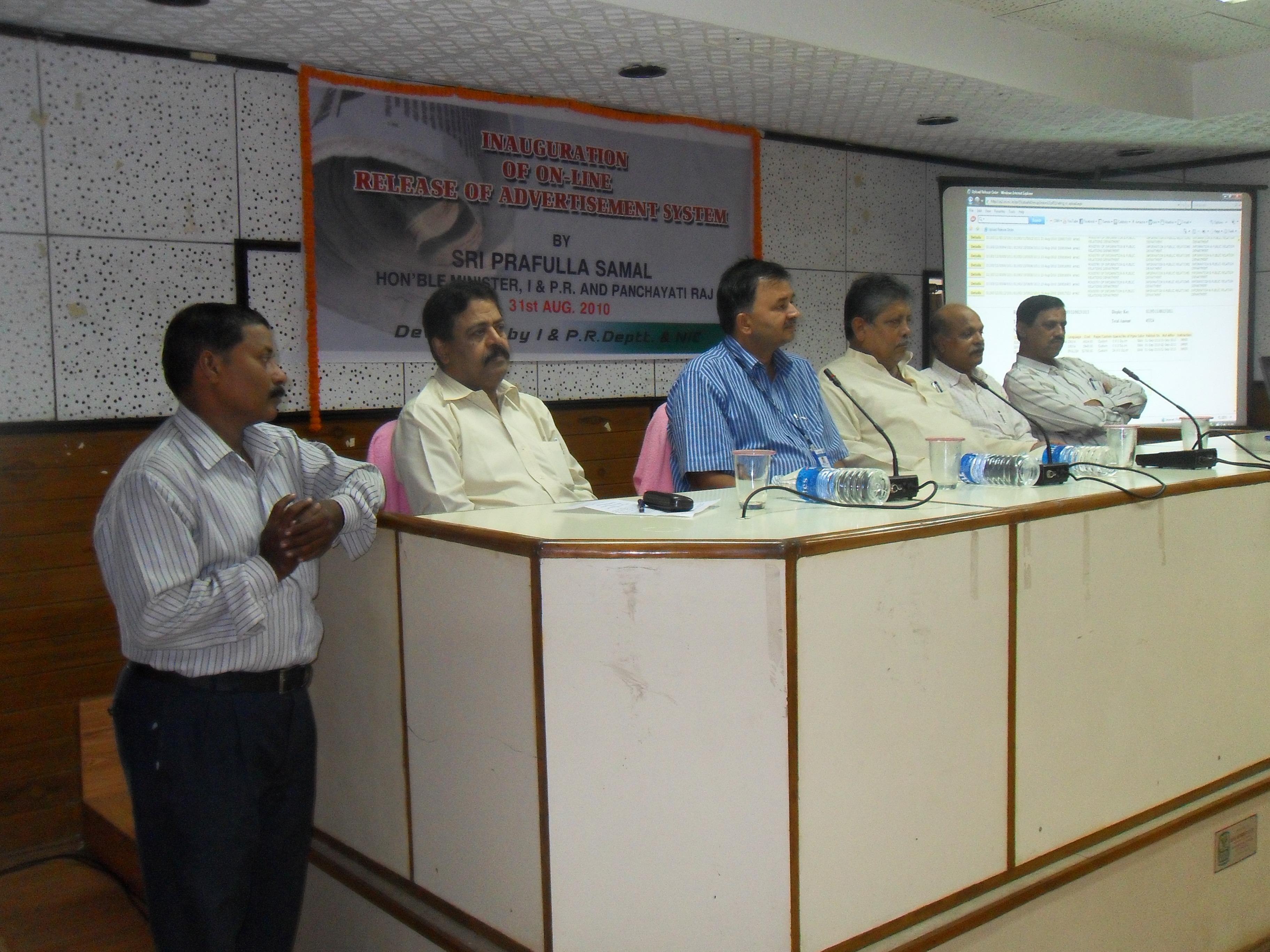 The "e-Advertisement", an web enabled application software, has been inaugurated by Shri Prafulla Samal, Hon'ble Minister, I & P.R and Panchayatiraj, Orissa on 31st August 2010 Bhubaneswar at the conference Hall of I & PR Deptt. in the presence of 
Shri S. N. Tripathy, IAS, Principal Secretary,  Shri Shri B. Mohanty, Director, I&PR and   Shri S.K. Panda, SIO & Sr.TD along with  members of News Paper Agencies, media and other team members of NIC    and Officials of I&PR Department. 
While inaugurating the software, Hon'ble Minister appreciated efforts made by NIC. He also mentioned that NIC, Orissa State Centre, Bhubaneswar, has set a mile stone in the State on implementing an ICT based solution for digital delivery of Advertisements & Order to the News Paper Agencies. This would bring transparency and lesser time in processing release orders which in turn would eliminate scope for corruption.
Shri S. N. Tripathy, IAS Principal Secretary, I & P.R and  Panchayatiraj, in his key note highly appreciated the efforts made by NIC officials to bring this project into success and also advised to the departmental officials not to send any manual RO from this date onwards. Among the other guests, Shri R N Das, IAS and Ex Secretary I & PR also spoke on the occasion.
Shri S. K. Panda, spoke about the salient features of the product implemented and scope for expansion & value additions in terms of integrating Payment Gateway & SMS services in the future.
Shri Ashok  Kumar Mohanty, TD  and  Project Leader with his team member Shri S.P. Dash, SSA gave a live demonstration of the application in the presence of Shri A.K.Hota,TD & Group Head.
Interacting after the presentation Hon'ble Minister suggested to incorporate the budgetary provisions in the software so that the department will not face problems for the payment to publishers.
The deliverables of the application include:
• Making online request for empanelment by news paper agencies
• Balance between issue of advertisements to various news paper and agencies based on their circulation parameter
• e- Generation of Release Order(RO)
• On-line estimate of RO
• Monitoring of voucher payment