Showing 841 to 850 of total 859 items
"The videoconferencing facility between Khunti District Civil court and Sub Jail, was inaugurated by Hon'ble Chief Justice Smt. Gyan Sudha Mishra, Jharkhand High Court at an impressive function on 23rd May'09 in the presence of Hon'ble Justice Amrashwar Sahay and Hon'ble Justice M Y Eqbal and other senior officials of the District court. After the inauguration, the new VC facility was demonstrated to the Hon'ble Chief Justice of the High Court. Speaking over the VC system, the Hon'ble Chief Justice
...
Informatics, NIC-HQ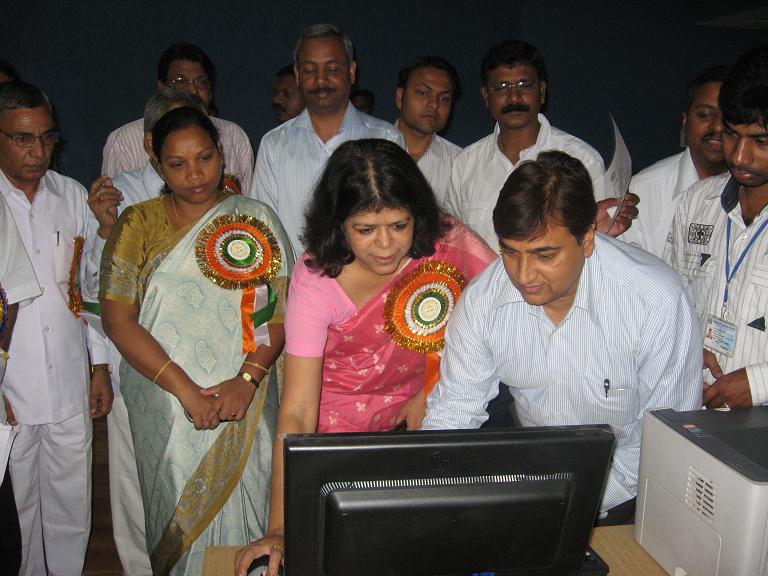 "The JAC Secondary School Examination Result 2009 was published on the website (http://jharresults.nic.in) on 9th May 2009, by Smt Mridula Sinha, HRD Secretary, Jharkhand. Smt Rama Khalko, Mayor Ranchi, Shri Shaligram Yadav, Chairman JAC & others senior officials of the government were also present during the results publication ceremony which was held at the JAC Building, Namkum, Ranchi The Jharkhand Academic Council is a statutory body and conducts examinations every year for the schools, which
...
Informatics, NIC-HQ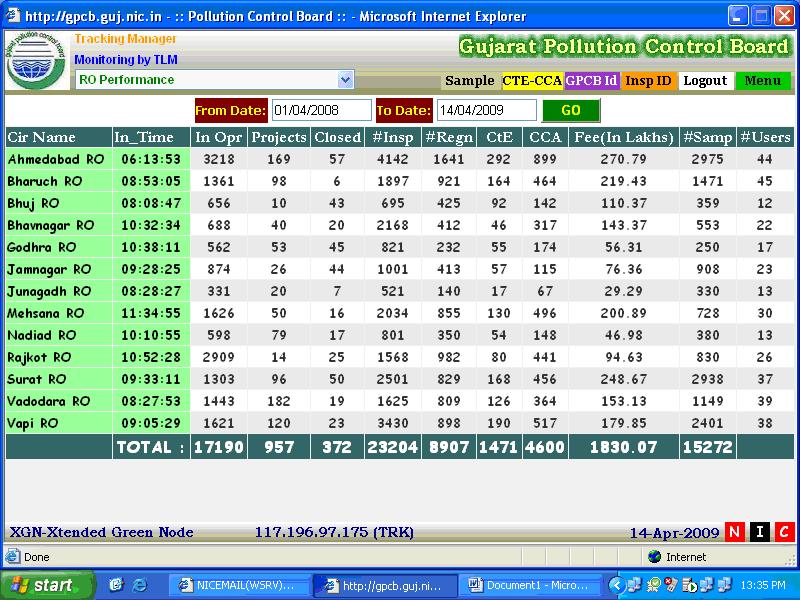 "XGN has been developed by NIC-Gujarat State Centre for the Gujarat Pollution Control Board, facilitating the users in the day to day operations at 13 field offices in Districts, the Head Office & about 17000 Industries spread all over. XGN is in operation since June-2008 and has been instrumental in effective implementation of Pollution Control Act, Rules & Notifications. Acts covered are the Air, Water, Hazardous & Bio Medical Waste, Plastics. The Stake Holders of the XGN are different types
...
Amit Shah, Gujarat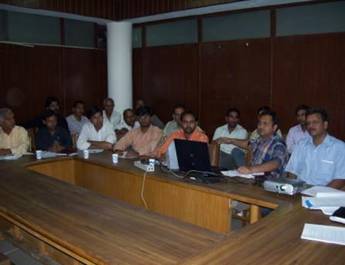 "The National Informatics Centre, Haryana arranged one day training programme on web based PlanPlus Software on 29.04.2009 at Meeting Hall, Department of Rural Development, Harayana, Chandigarh. During First Session of training programme, the Planplus Work Flow was explained to participant and a Mini Plan was made. In Second session Hands-on practice was conducted on the plan made during first session on Plan Plus Software. The operations of web based s/w ie http://panchayat.gov.in (training purpose)
...
Hari Chand, Haryana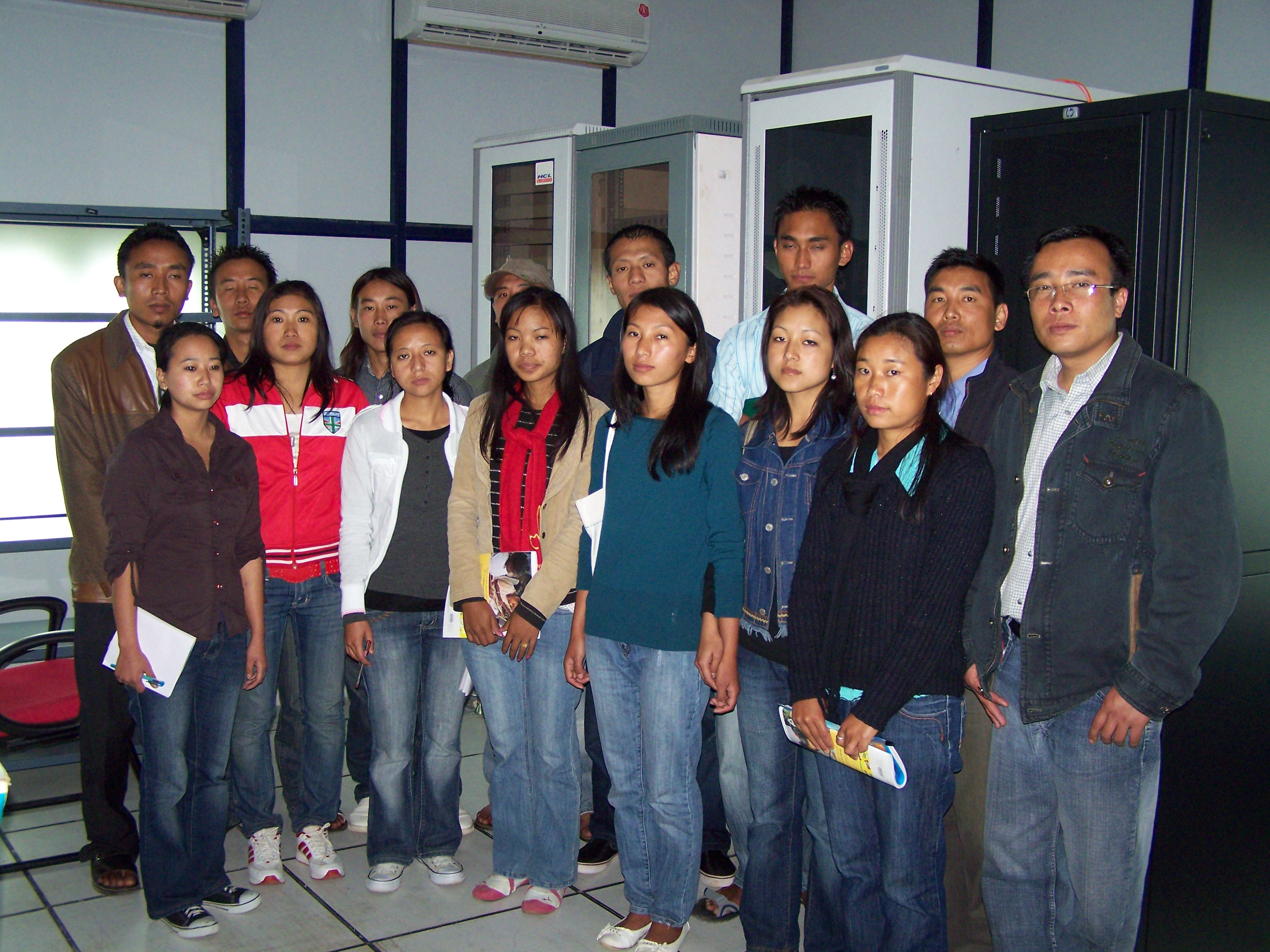 A two days training session was held on 5th and 6th March 2008 at NIC Nagaland State Centre, Kohima for Industrial Training for Diploma Students in Computer Application, Government Polytechnic Kohima. The topics covered in the training are: Importance of ICT, Internet & Networking with lab session, IT Infrastructure in Nagaland and a visit to iNOC & Data Centre. All together 13 (thirteen) students has attended the training.
Kemvu Elah, Nagaland
The Chief Electoral Officer, Nagaland, C.J. Ponraj on 24th March '09 had a VC discussion relating to ensuing Lok sabha Election and Assembly bye-elections with all DCs and SPs in all seven Districts of Nagaland and reviewed the poll preparations in the districts using NIC Video conferencing facilities in the State. Speaking from the National Informatics Centre (NIC), Video Conferencing Studio at State Centre, new Secretariat Complex Kohima, the CEO addressed the DCs and SPs in their respective district
...
Kemvu Elah, Nagaland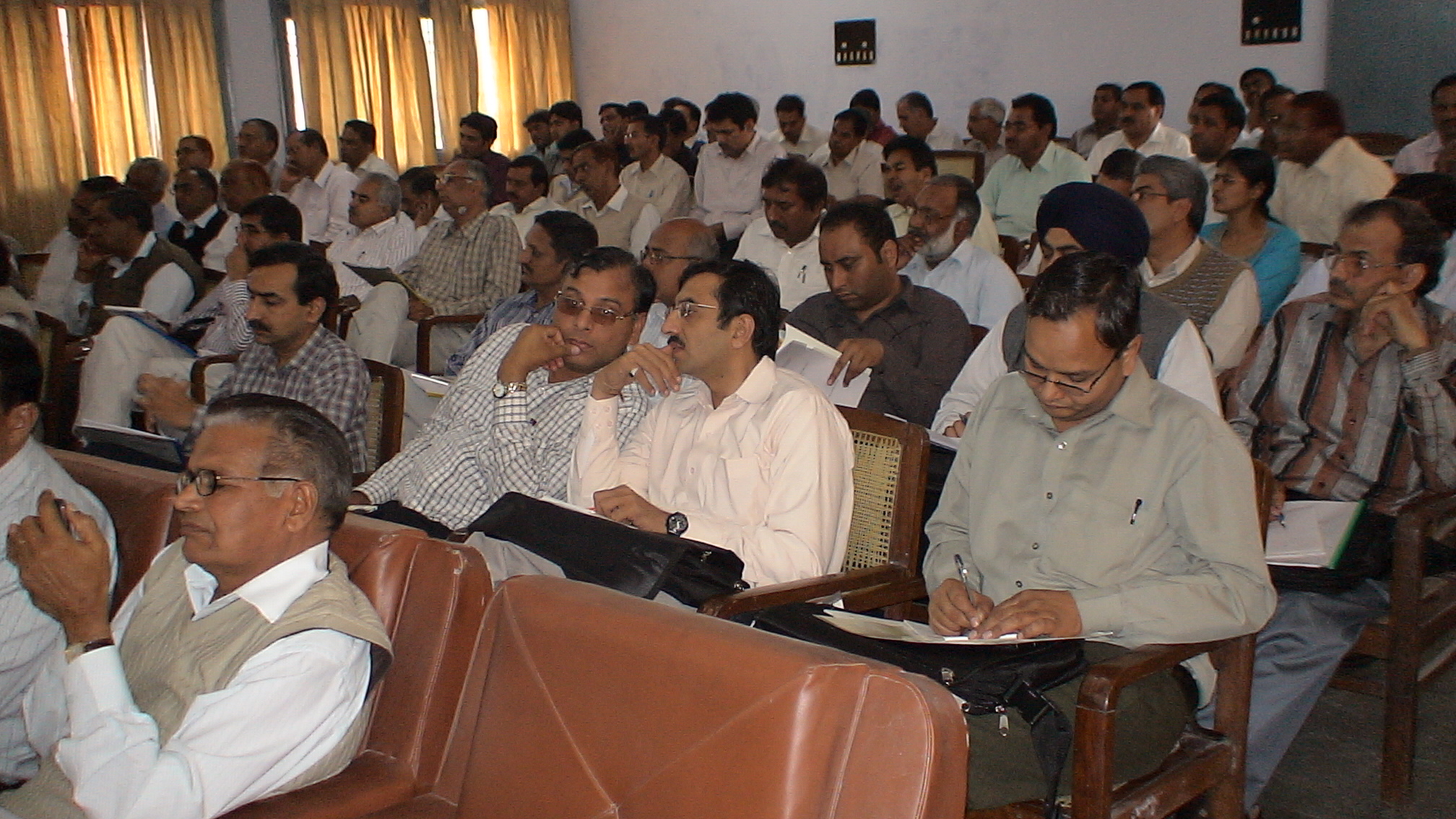 "NIC Haryana State Centre and Department of Revenue and Disaster management, Haryana organized one day workshop on National Land Records Modernization Programme (NLRMP) on 06th March 2009 at Haryana Institute of Rural Development, Nilokheri (Karnal). The workshop was attended by all the District Revenue Officers, Tehsildars and district Informatics Officers of the state. The components of NLRMP, Funding Pattern, Implementation Strategy, Requirements of GPRs and LRs, Citizen Services, Milestones,
...
Hari Chand, Haryana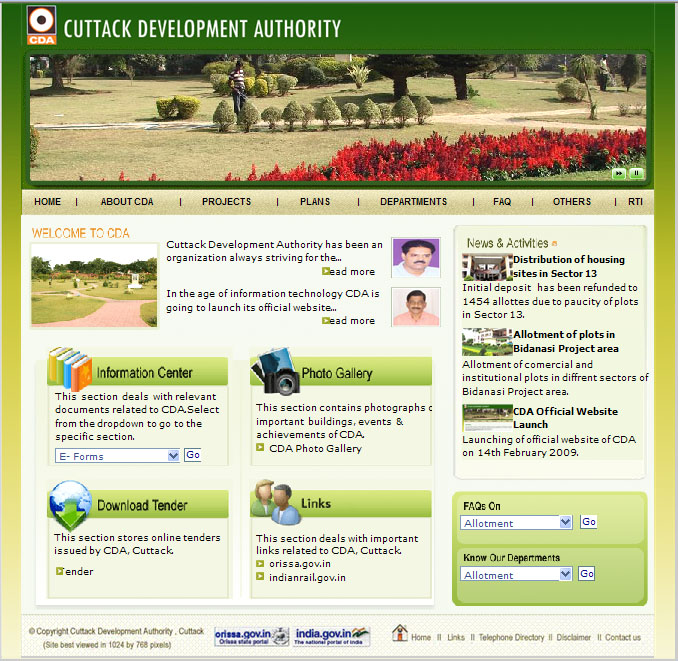 "On February 14, Hon'ble Minister, Housing and Urban Development, Sj. Kanak Vardhan Singh Deo has inaugurated CDA's website http://cdacuttack.ori.nic.in in the CDA premises, Cuttack. This website has been developed and hosted by National Informatics Centre, Bhubaneswar. Dignitaries present in the inaugural ceremony include Shri B. K. Dhal, IAS Vice Chairman, CDA, all executive members of CDA. The website provides various information on functioning of CDA, projects under Residential & Commercial,
...
A. K. Hota, Odisha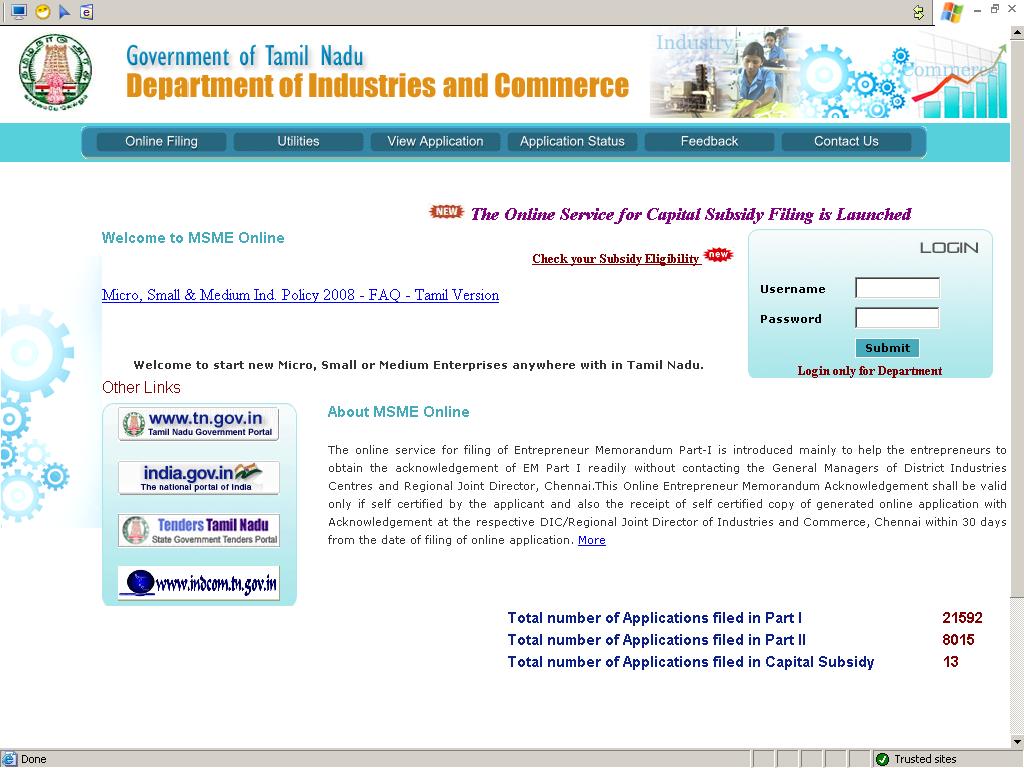 "Entrepreneurs in the Micro, Small and Medium (MSME) sector can file the Subsidy application Online and can get the acknowledgement immediately. The Online facility was inaugurated on 12th February, 2009 by the Principal Secretary, MSME, Govt of TamilNadu. The Entrepreneur who wants to apply for Subsidy can visit www.msmeonline.tn.gov.in and can file online application for Capital Subsidy in the format prescribed by Government of TamilNadu. The system has the facility for all DICs to login and
...
R.Gayatri, Tamil Nadu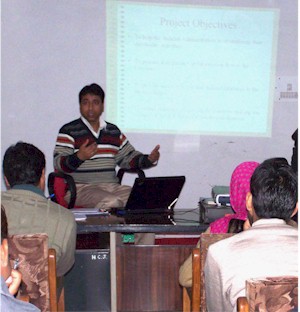 " A 5-day Training Program under e-Courts project was held for the newly selected Systems Officers of J&K from 16th to 20th of February 2009 at the High Court of J&K Judicial Academy, Jammu. In all, 22 Systems Officers for the 22 districts of J&K and 2 Senior Systems Officers selected for High Court, Jammu and Srinagar wings, participated in the training program. On the first day, Sh. Saleem Khan, Principal Systems Analyst & State Project Coordinator addressed the participants and briefed them
...
Jit Raj, Jammu and Kashmir
Search Online News