Showing 31 to 40 of total 420 items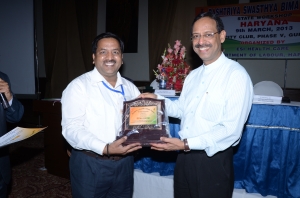 DIO YamunaNagar Sh. Ramesh Gupta received best DKMA Award for Rashtriya Swasthya Bima Yojna (RSBY) in the 5th State level RSBY workshop held on 9th march 2013 at Gurgaon DLF Phase V. In the year 2012-2013 in rural area enrolment for smart card is about 70 % which is top in Haryana and urban area enrolment is under progress.
Poonam Gupta, Haryana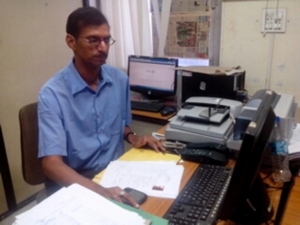 NIC-RA was setup in Uttar Pradesh in the year 2009 with the launch of e-Procurement & e-District system in the state. Various state government departments like PWD, Electronics & IT, Irrigation etc. started using the e-Procurement system which required Digital Signatures as authentication mechanism. As the project got wider acceptance the requirement of DSC extended to central government departments like Railway, Defence, CBI, Post and Telegraph and public sector undertakings like Hindustan
...
Anshu Rohatgi, Uttar Pradesh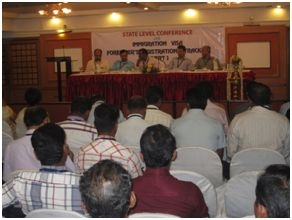 Bureau of Immigration (BOI) and National Informatics Centre (NIC) jointly organized the First State Level Conference on Immigration, Visa, Foreigners' Registration and Tracking (IVFRT) at Sonata Hall, Mascot Hotel, Thiruvananthapuram on 12th March, 2013. About eighty participants from Foreigners Regional Registration Offices (FRROs)/ Foreigners Registration Offices (FROs), Immigration Check Post, State Home Department and NIC participated in the Conference. Technical sessions on Centralized
...
N.K Prasad, Delhi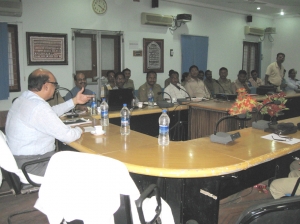 The "District Level Awareness Programme on e-Auction Process" was conducted on 14-03-2013 at DRDA Conference Hall, Rayagada. The programme was organized jointly by Excise Department and NIC, Rayagada. Shri S. B. Padhi, Collector, Rayagada chaired the programme and Sri Nayak, Excise superintendent, Rayagada welcomed the participants. At the beginning, Collector, Rayagada explained the new system going to be adopted by the Excise department and briefed the rules and regulations.
...
A. K. Hota, Odisha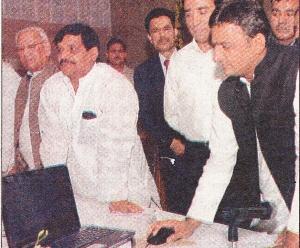 Uttar Pradesh Chief Minister Shri Akhilesh Yadav inaugurated the Revenue Court Management System (RCMS) on 13th March 2013 at Lucknow. He was accompanied by Revenue Minster of UP Shri Ambika Chaudhary, Chairman Board of Revenue Shri Jagan Mathews, Principal Secretary, Department of Revenue, Shri K.S. Atoria, Commissioner/Secretary Board of Revenue Shri Anil Kumar, DDG & SIO, NIC, UP Shri S.B. Singh and other senior functionaries of the state government. In his address to the people and
...
Anshu Rohatgi, Uttar Pradesh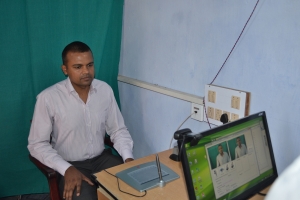 Smart card based driving license (SCDL) system was launched in Mau on 11th March 2013 by District Magistrate Shri Bhupendra S Chaudhary from the Regional Transport Office Mau, Uttar Pradesh. After completing the required formalities, such as bio-metric scanning of fingers and digital photograph of applicant, the RTO Shri Shyamlal issued the first SCDL of the district to Shri Chaudhary. Senior functionaries of the district administration & transport department Shri Sarvesh Chaudhary, Daya
...
Anshu Rohatgi, Uttar Pradesh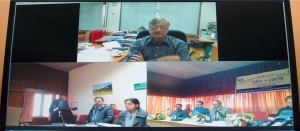 A two-days State level Transport Conference on Vahan and Sarathi was held at Shimla on 4th and 5th of March 2013. Around 70 officers from the Department of Transport, State Administration, NIC District Centres and Police participated. The Conference was held in the Himachal Pradesh Institute of Public Administration, Fairlawns, Shimla. Dr. Mahesh Chandra, DDG NIC participated in the inaugural session through Video Conferencing and assured full support to the State Transport Department in
...
Ajay Singh Chahal, Himachal Pradesh
A one day Workshop on National Tracking System for Missing and Vulnerable Children was held at the Zonal Council Hall, Kohima, Nagaland on 7th March 2013. The Presentation was given to the State Integrated Child Protection Scheme ICPS Officials, Police Officials and others by the National Informatics Centre team from West Bengal led by Dr Goutam Mukherjee, STD. The welcome and Key Note address was given by the Chairman, State Child Protection Society SCPS and Secretary Social Welfare. The
...
Swedesenuo Natso, Nagaland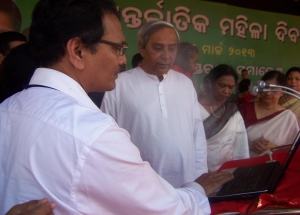 On the eve of International Women's day, the website of Odisha State Commission of Women was launched by Shri Naveen Patnaik, Hon'ble Chief Minister of Odisha on dt-08.03.2013 at 11.30 AM., in the presence of Smt Usha Devi, Hon'ble Minister Women and Child Development (WCD) Department, Government of Odisha, Smt Saraswati Hembram,Hon'ble Minister Textiles, Shri Prasanna Kumar Patsahani, Hon'ble MP, Bhubaneswar, three Hon'ble MLAs of Bhubaneswar,
...
A. K. Hota, Odisha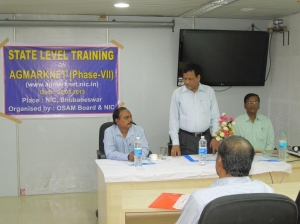 The state level training on Agmarknet project (Phase-VII) was conducted on 02-03-2013 at NIC, Bhubaneswar to make 15 new market nodes operational. The training programme was jointly organized by Odisha State Agricultural Marketing Board and NIC. It was attended by about 45 participants covering market level officials, concerned DIOs of NIC and state marketing board officers. The training was inaugurated by Sri P. K. Pattnaik, IAS, Director of Agricultural Marketing, Odisha. In the beginning,
...
A. K. Hota, Odisha
Search Online News