Showing 31 to 40 of total 876 items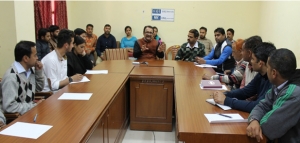 A workshop-cum-training program on Aadhaar seeding in Land Records was held for the officials of the Revenue Department in District Una, by NIC District Unit on 17th March, 2017. Sh. Vikas Labroo, Deputy Commissioner, Una chaired the training session and directed the officials to collect Aadhaar number of land owners in their respective villages within one month by 15th April, 2017 and start seeding in land records through laptops/net-connectivity available with them or by visiting their tehsil
...
Ajay Singh Chahal, Himachal Pradesh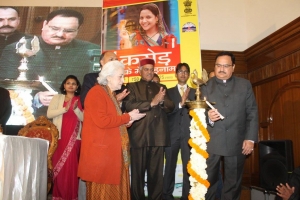 The Digidhan Mela to sensitize and train the citizens on using cashless modes for making various types of payments was held on 19th March 2017 at Shimla. Honourable Union Health Minister, Sh. J.P. Nadda was the chief guest. Smt. Vidya Stoke, Minister for Information Technology, Himachal Pradesh was guest of honour. Sh. Vinay Thakur, Director, eGoverenance represented the Ministry of Electronics and IT, GoI. In his address, Sh. J.P. Nadda, the Honourable Union Minister for Health, said
...
Ajay Singh Chahal, Himachal Pradesh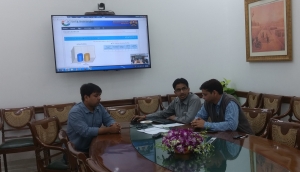 eSamikSha, an online Monitoring and Compliance Mechanism has been developed by Cabinet Secretariat Informatics Division, to fast track the compliance of pending action points, proposal, targets, etc. of various Ministry/Department/Organization/Agency of Govt. of India and Government of States and UTs. The Portal has been designed in such a way that it will enhance efficiency, bring transparency, reduce the need of protracted correspondence and improve the communication between Government
...
Dr. Shubhag Chand, Delhi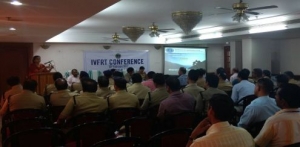 A Regional level conference on IVFRT (Immigration, Visa, Foreigners' Registration and Tracking) was organized by Bureau of Immigration (BOI) and National Informatics Centre (NIC) jointly at Government Guest House Conference Hall, Ernakulam on 10th February 2017. The implementation status of the project was reviewed and Technical/ Administrative sessions were also conducted on cFRO, cForm/ sForm, Intelligence Collection, Inspection of registered cForm users, Seaport Immigration check and
...
N.K Prasad, Delhi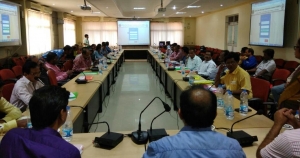 One day training cum workshop was organised on 8th February' 2017 at Madhusudan Das Regional Academy of Financial Management, Chandrasekharpur, Bhubaneswar, for all Depot level officials of Odisha State Beverages Corporation Limited (OSBCL), Bhubaneswar, Odisha. Inaugurating the training programme Shri Dwijraj Kar, IAS, Managing Director, briefed about the objective of the project which aims to create an integrated web based platform to connect processes of high importance and thereby
...
A. K. Hota, Odisha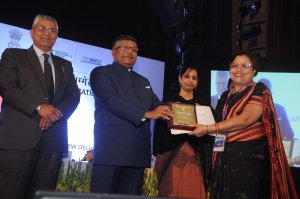 It was a proud moment for NIC, Koraput, Odisha to receive the award in the National DIO Meet for its exemplary achievement on digital payments campaign. DIO, Koraput, Smt. Sailabala Prusty, received the certificate of appreciation with memento from Honble Minister of IT & Comm. and Law & Justice Shri Ravi Shankar Prasad, in presence of Minister of State, Shri P. P. Choudhury, Secretary MeiTY, Smt Aruna Sunderrajan, IAS , and DG, NIC, Smt. Neeta Verma. Koraput
...
A. K. Hota, Odisha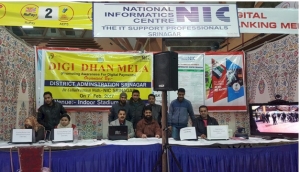 Divisional level Digidhan Mela was held today at Indoor Stadium Srinagar on 7th Feb 2017. The Divisional Commissioner Kashmir, Deputy Commissioner Srinagar and other dignitaries were present on the occasion. DIO NIC Srinagar in his welcome address emphasized the need of digitization in the country for easy transfer of money and also shed light on various modes of electronic transactions. Deputy Commissioner Srinagar in his address added that digitization will pave way for a new revolution in which
...
Jit Raj, Jammu and Kashmir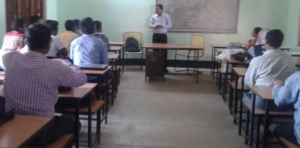 The training programme on "I.C.T. applications in Revenue administration" was organised by DIO, NIC, Sambalpur for Revenue Inspectors of different districts of northern Odisha at Revenue Inspectors Training Institute (R.I.T.I.), Larkank, Sambalpur. R.I.s are the grassroots level revenue officials and ICT knowledge is very much essential to deal with e-Governance applications used / to be used for revenue administration. To cater the e-Governance knowledge upgradation
...
A. K. Hota, Odisha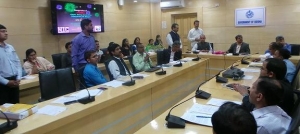 eOffice for Odisha Mining Corporation (OMC), Collectorate Ganjam and DFO Baripada were launched by Chief Secretary, Odisha Sri Aditya Prasad Padhi at 2nd Floor Conference Hall, Secretariat, Bhubaneswar on dt- 31.01.2017 by 6 PM. Others present in the occasion include Sri R. Balakrishnan, IAS, Development Commissioner, Sri Ashok Meena, IAS, Special Secretary, GA Dept., Sri Sanjeev Chopra, IAS, Principal Secretary, Industries, Sri Sanjay Singh, IAS, Secretary, Skill Development, Sri R.
...
A. K. Hota, Odisha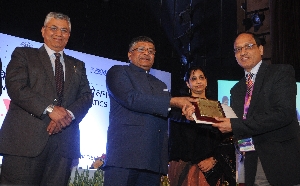 Shri Ravi Shankar Prasad, Honorable Union Minister for Information Technology, Law and Justice awarded the appreciation certificate and memento to Sh. Rakesh Kumar, District Informatics Officer, Bilaspur, NIC Himachal Pradesh, during the National Grassroot Informatics meet, on 19th January 2017 in New Delhi for his exemplary services towards Digial Payment initiatives. Sh. P.P. Chaudhary, Union Minister of State for IT, Law and Justice, Ms. Aruna Sundarajan, Secretary, MeitY, Dr. Ajay Kumar, Additional
...
Ajay Singh Chahal, Himachal Pradesh
Search Online News