Showing 21 to 30 of total 876 items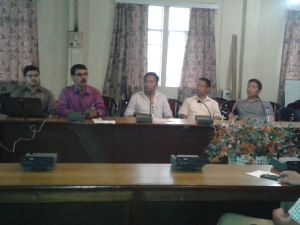 A presentation on the Web-based and open source-based Land Records Application Software, LaPaMs (Land Patta Management System) developed by NIC Assam State Centre under the supervision and guidance of Shri. Hemanta Kumar Saikia, Senior Technical Director, NIC, Assam was jointly organized by the District Administration and NIC Dimapur on 9th May 2017 at the Deputy Commissioner's Conference Hall, Dimapur, Nagaland. The objective of this presentation was to familiarize the higher authorities
...
Novotsono, Nagaland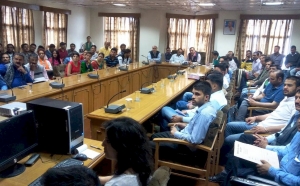 A one day workshop on Works MIS software of the Himachal Pradesh Irrigation and Public Health Department officers and officials was held at Shimla on 3rd May 2017. The objective of the workshop was to sensitize and create awareness among the Departmental officials towards complete paper-less implementation of the software solution for the HP IPH Department. About 85 participants of different offices of Shimla IPH Zone attended the Workshop in the Jal Bhawan, Kasumpati, Shimla. Ms.
...
Ajay Singh Chahal, Himachal Pradesh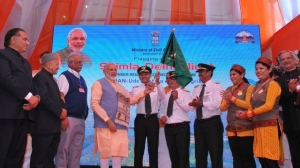 Sh. Narendra Modi, Hon'ble Prime Minister of India, visited Shimla on 27th April 2017 and inaugurated the first flight under UDAN scheme at Shimla. Under the Regional Connectivity Scheme 'UDAN', (Ude Desh ka Aam Nagrik),' the Government will provide air connectivity to the un-served airports across the nation. The flight charges will be at subsidised rate of Rs. 2,500 for per hour of flights. The scheme has been launched under the National Civil Aviation Policy (NCAP) which
...
Ajay Singh Chahal, Himachal Pradesh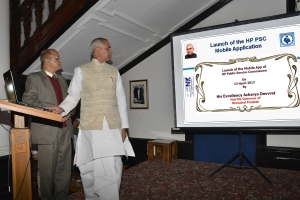 His Excellency, Acharaya Devvrat, Hon'ble Governor of Himachal Pradesh launched the Android based Mobile Application of the HP Public Service Commission on 13th April 2017 at Shimla. The Hon'ble Governor, in his speech, emphasized the importance of new technologies for the younger generation and they must be provided with more such ICT solution in their hands. He said that the Mobile App has special importance in a State like Himachal where road connectivity and postal reach is hampered
...
Ajay Singh Chahal, Himachal Pradesh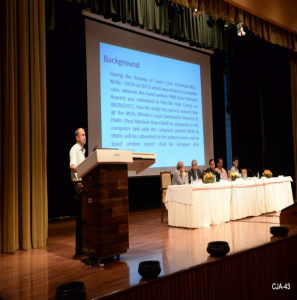 Chandigarh Judicial Academy for Punjab and Haryana invited Mr Rahul Jain, Scientist-D , NIC-Haryana to deliver a lecture to sensitize the Judicial Officers , Doctors and Investigation officers of Punjab , Haryana and Chandigarh on FSL-MedLEaPR( Forensic Science Laboratory and Medico Legal Examination and Post Mortem Reports), a Project developed by Health Informatics ,NIC-Haryana and implemented in Punjab, Haryana and Chandigarh under direct monitoring of Hon'ble High Court, Punjab and Haryana.
...
Deepak Sawant, Haryana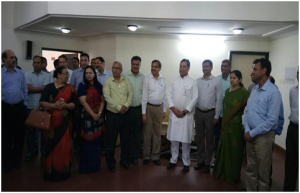 Capt. Abhimanyu, Finance Minister, Haryana hosted a high tea at Haryana Niwas Chandigarh for the officers of Finance Department and NIC Haryana State Centre involved in preparation of budget preparation exercise for the Financial year 2017-18. SH. Sh. G.S. Bansal DDG & SIO Haryana along with NIC Finance Department Cell comprising of Sh. Deepak Bansal, Sr. Technical Director, Sh. Virender Trivedi, PSA and Sh. Jagdish Lal Mehndiratta SSA were also present . Speaking on
...
Deepak Sawant, Haryana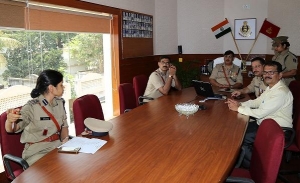 The website of Angul District Police (Odisha) (http://angulpolice.nic.in) was inaugurated by Shri K. B. Singh, IPS, DG & IG of Police, Odisha on Dt-01.04.2017 at his Chamber at Police Headquarters, Cuttack on the eve of Odisha Police Formation Day and Utkal Divasa. Speaking on the occasion Shri Singh expressed satisfaction over the timely launch of the website when the entire state is geared up for Utkal Divasa. He is of the opinion that this website will help the citizens for
...
A. K. Hota, Odisha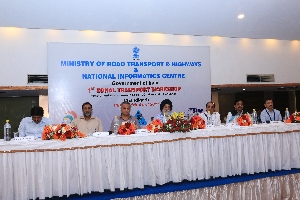 Ministry of Road Transport & Highways and NIC jointly organised the "1st Zonal Transport Workshop – Implementation of eChallan and mParivahan" at Hotel Mountview, Chandigarh on 10th and 11th April 2017. The event was hosted by NIC Chandigarh UT Unit, in coordination with NIC Haryana, NIC Punjab and NICSI Chandigarh. The delegates were from Transport Department, Traffic police and NIC from 12 States/UTs namely J&K, HP, Punjab, Haryana, Chandigarh,
...
Vivek Verma, Chandigarh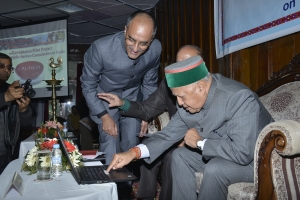 Sh. Virbhadra Singh, Hon'ble Chief Minister of Himachal Pradesh launched the eGovernance Pilot Project of the HP State Public Service Commission on 10th April 2017 at Shimla. Speaking on the occasion, the Hon'ble Chief Minister expressed the hope that the project will benefit the youth of the State by bringing more transparency and online services while applying for Government jobs. Sh. K.S. Tomar, Chairman of the HP State Public Service Commission, informed that the eGovernance Project
...
Ajay Singh Chahal, Himachal Pradesh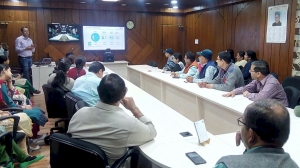 In order to promote cash-less or digital modes of making payments, a series of Awareness programs were organized in HP Secretariat, Shimla by the NIC State Centre, Shimla for the employees of the HP Government. These awareness programs were held from 20th March to 29th of March 2017 in the high-tech Video Conference-cum-Training Room set up by NIC in the HP Secretariat. Sh. Shailender Kaushal, NIC Coordinator organized these short-duration awareness programs using audio-visuals, displaying
...
Ajay Singh Chahal, Himachal Pradesh
Search Online News