Showing 21 to 30 of total 929 items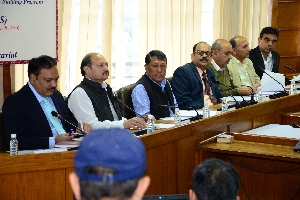 Sh. V.C. Pharka, Chief Secretary of Himachal Pradesh launched the World Bank Funded Project, HP Public Financial Management-Capacity Building Program, on 31st August 2017 at Shimla. Sh. Shrikant Baldi, Additional Chief Secretary Finance, Sh. Tanuj Mathur, Task Team Leader World Bank, Sh.Tarun Kapoor, ACS-Excise and Taxation, Sh. Jagdish Sharma, Principal Secretary IT, Sh. Kulwant Singh, Accountant General HP, Sh. Ajay Singh Chahal, SIO NIC HP and Sh. D.D. Sharma, Special Secretary Finance, World
...
Ajay Singh Chahal, Himachal Pradesh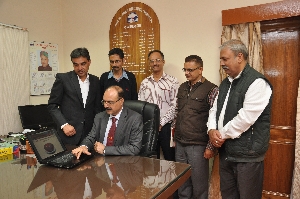 The Chairman, Himachal Pradesh Public Service Commission, Maj Gen Dharam Vir Singh Rana, AVSM (Ati Vishisht Seva Medal), SM (Sena Medal), VSM (Vishisht Seva Medal) launched the iOS (Apple) platform Mobile application of HP Public Service Commission on 31st August 2017 at Shimla, which is now available on the Apple App Store. While releasing the App, the Chairman expressed hope that this App is a milestone, as it supplements the already released Android Mobile App and in bringing the transparency
...
Sandeep Sood, Himachal Pradesh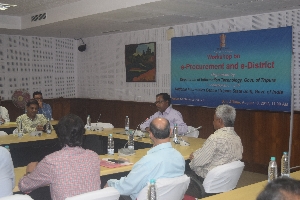 One day workshop on GePNIC e-procurement and e-District was organized by the Directorate of Information Technology, Government of Tripura in collaboration with National Informatics Centre Tripura on August 19th, 2017. The workshop was inaugurated by Shri M Nagaraju, Principal Secretary Finance & Information Technology in the presence of the Secretaries of other departments and State Informatics Officer, NIC Tripura. The workshop was targetted to bring in awareness among various state government
...
Chaitali, Tripura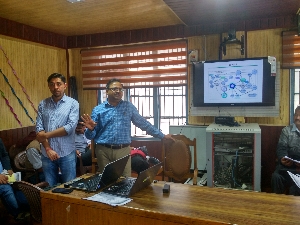 NIC Himachal Pradesh and Department of Treasury & Accounts jointly conducted four workshops under Himachal Pradesh Public Financial Management - Capacity Building Program. These workshops have been conducted for the DDOs of various departments posted at Reckong Peo, Kaza, Kelyong and Kullu. Five treasuries of District Kinnaur, three treasuries of Lahaul & Spiti, five treasuries of Kullu have been covered under this program. These workshops were conducted on 19th August at Reckong Peo (Kinnaur),
...
Ajay Singh Chahal, Himachal Pradesh
A new DTO site "Aizawl Rural DTO" and Vahan 4.0 was inaugurated by Shri John Rotluangliana, Hon'ble Minister, Transport Department, Mizoram in the presence of Shri T.T.Zothansanga, Parliamentary Secretary, Mizoram on the 29th August, 2017. As part of Transport MMP driven by Ministry of Road Transport & Highways, launching of Vahan 4.0 in 8 DTOs (including the new DTO) was held by the Minister on the same occasion. The function was conducted by Shri Lalthangpuia Sailo, Secretary,
...
Lalhmachhuani, Mizoram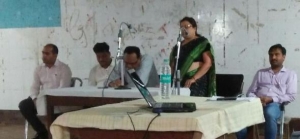 A two day's training programme on Bhunaksa 3.0 software on map correction was held on 18th and 19th August 2017 in the Municipality Town Hall for Koraput and Jeypore sub division respectively for all the 14 tahasils in the district. Tahasildars, Addl Tahasildars, RIs, ARIs, Amins and DEOs of Koraput District of the tahasils participated in the training programme. The training programme was inaugurated by Sri Deben Kumar Pradhan, OAS (SB), PD DRDA and I/C ADM, Koraput
...
A. K. Hota, Odisha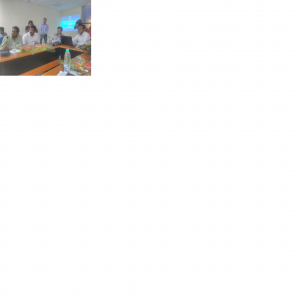 Govt. of Tripura has decided to adopt e-Office suite across all departments in the State Secretariat and various Directorate at the state level. It was also decided to implement e-Office Suite initially in Industries and Commerce Department covering i. Directorate of Information Technology, ii. Dept. of Industry and Commerce, iii. Dept. of Handloom, Handicraft & Sericulture iv. Skill Development Directorate on immediate basis. During the
...
Chaitali, Tripura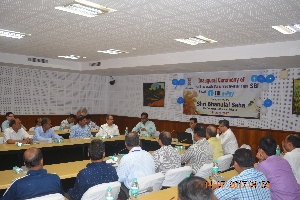 Hon'ble Minister for Finance, Govt. of Tripura, Shri Banu Lal Saha, has launched Online Government Receipts Accounting System (e-GRAS) on 14-07-2017 at a inaugural function in presence of Shri Sanjeev Ranjan, Chief Secretary, Shri AK Shukla, Director General of Police, Shri M. Nagaraju, Principal Secretary(Finance) and other high officials of the Secretariat, Agartala. e-GRAS is an e-Governance Initiative of Government of Tripura and NIC to facilitates collection of tax/non tax revenue
...
Chaitali, Tripura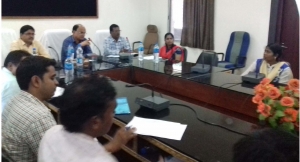 Training programme on Bhunaksha software on map correction was held in the DRDA Conference hall, Jharsuguda, Odisha on 09/08/2017 for all the 5 Tahasil officials and 32 RI officials of Jharsuguda District. The training programme was organized by NIC, District, Unit, Jharsuguda. The main objective of the training programme was to train the participants particularly RI officials on how to make digital correction of maps using Bhunaksha software. The Addl. Tahasildars, R.I.s, ARIs, Amins, Record
...
A. K. Hota, Odisha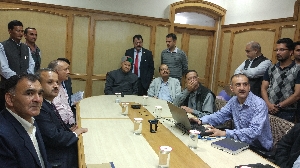 The Online Donations to CM Relief Fund Web application has been launched by Sh. Virbhadra Singh, Hon'ble Chief Minister Himachal Pradesh on 8th August 2017 at Shimla. Sh. Harsh Mahajan, Chairman, HP State Co-operative Bank Ltd., Sh. T.G. Negi, Principal Advisor to Hon'ble CM, Sh. Subhash Ahluwalia, Principal Private Secretary to Hon'ble CM, Sh Gopal Sharma, MD, HP State Co-operative Bank Ltd., Sh. IPS Sethi, Scientist-F (State Coordinator of NIC Himachal Pradesh) through VC from
...
Ajay Singh Chahal, Himachal Pradesh
Search Online News