Showing 21 to 30 of total 859 items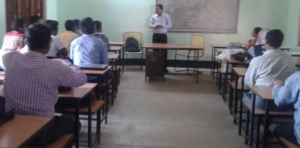 The training programme on "I.C.T. applications in Revenue administration" was organised by DIO, NIC, Sambalpur for Revenue Inspectors of different districts of northern Odisha at Revenue Inspectors Training Institute (R.I.T.I.), Larkank, Sambalpur. R.I.s are the grassroots level revenue officials and ICT knowledge is very much essential to deal with e-Governance applications used / to be used for revenue administration. To cater the e-Governance knowledge upgradation
...
A. K. Hota, Odisha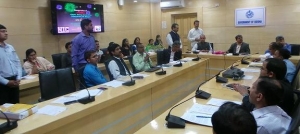 eOffice for Odisha Mining Corporation (OMC), Collectorate Ganjam and DFO Baripada were launched by Chief Secretary, Odisha Sri Aditya Prasad Padhi at 2nd Floor Conference Hall, Secretariat, Bhubaneswar on dt- 31.01.2017 by 6 PM. Others present in the occasion include Sri R. Balakrishnan, IAS, Development Commissioner, Sri Ashok Meena, IAS, Special Secretary, GA Dept., Sri Sanjeev Chopra, IAS, Principal Secretary, Industries, Sri Sanjay Singh, IAS, Secretary, Skill Development, Sri R.
...
A. K. Hota, Odisha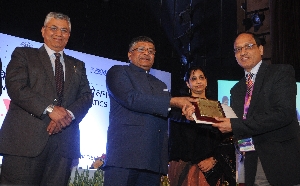 Shri Ravi Shankar Prasad, Honorable Union Minister for Information Technology, Law and Justice awarded the appreciation certificate and memento to Sh. Rakesh Kumar, District Informatics Officer, Bilaspur, NIC Himachal Pradesh, during the National Grassroot Informatics meet, on 19th January 2017 in New Delhi for his exemplary services towards Digial Payment initiatives. Sh. P.P. Chaudhary, Union Minister of State for IT, Law and Justice, Ms. Aruna Sundarajan, Secretary, MeitY, Dr. Ajay Kumar, Additional
...
Ajay Singh Chahal, Himachal Pradesh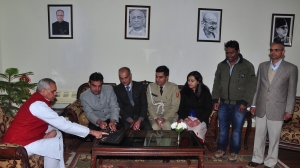 His Excellency, Acharya Devvrat, Honourable Governor of Himachal Pradesh, launched the website of the HP State Red Cross Society on 31-January-2017 at Shimla. Sh. P.S. Rana, Secretary of the State Red Cross Society and Sh. Ajay Singh Chahal, State Informatics Officer, NIC HP were present during the launch ceremony with other officers. Highlighting the importance of the Red Cross, the Honorable Governor laid stress on its strengthening and increasing the scope of services. He hoped that the website
...
Ajay Singh Chahal, Himachal Pradesh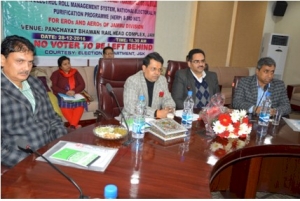 A one-day workshop was conducted for the Deputy District Election Officers, the Electoral Registration Officers and the Assistant Electoral Registration Officers of Jammu Division of J&K State on 28th December, 2016 at Panchayat Bhawan Auditorium, Jammu. The event was presided over by Sh. Shantmanu, IAS, Principal Secretary and Chief Electoral Officer J&K. More than 150 officers and officials from the state election machinery including those from 10 districts of Jammu Division participated
...
Jit Raj, Jammu and Kashmir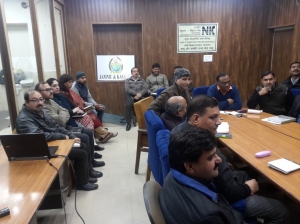 A review meeting of NIC J&K State Centre and NIC District Centres held under the Chairmanship of J&K State Coordinator Shri A.K. Aggarwal, STD. on 11.01.2017 at NIC J&K State Centre Civil Secretariat Jammu. The agenda of the meeting was as follows: 1. To review State Level Projects 2. Central Projects – AEBAS, VAHAN/ SARATHI, E-Office etc. 3. Central
...
Jit Raj, Jammu and Kashmir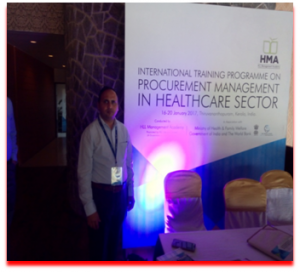 Mr Rahul Jain , Scientist-D and State Health Coordinator, Haryana presented a paper and delivered a lecture on "ICT Facilitation in Procurement & Supply Chain" in International Training programme on procurement Management in health care sector (16-20 January 2017) held in Thiruananthapuram, Kerala organized by HLL Management Academy(HMA) in association with Ministry of Health and family welfare, Government of India and World Bank on 20th January 2017.
...
Deepak Sawant, Haryana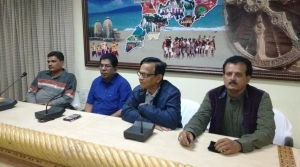 One day Workshop-cum-Capacity Building programme on Cashless Transaction held in the conference hall of Revenue Divisional Commissioner, Southern Division, Odisha, Berhampur. The programme was organized by NIC, RDC, Southern Division Unit, Berhampur. The main objective of the programme was to train the participants on how to make cashless transaction using various electronic payment methods. The workshop was inaugurated by D.D.G-cum-S.I.O Odisha Sri
...
A. K. Hota, Odisha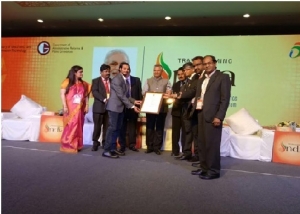 The project Integrated Management Information System (IGMIS) developed for Indira Gandhi Krishi Vishwavidyalaya (IGKV), Raipur by NIC Chhattisgarh State Centre, Raipur has been awarded with National eGovernance Silver Award during 20th National eGovernance Conference held on 9-10th Jan'2017 at Hotel Novotel, Visakhapatnam, Andhra Pradesh. The award was presented by Hon'ble Shri P.P. Chaudhary, Minister of State, Electronics & Information Technology, Law & Justice, Govt. of
...
Y.V.Shreenivas Rao, Chattisgarh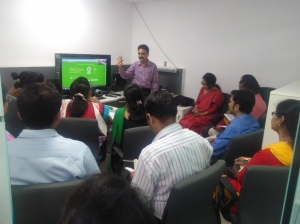 NIC Maharashtra State Centre organised an awareness program on Digital Payments for the officials of State Government departments at Secretariat Mumbai on 17th Jan. 2017. SIO Maharashtra and the coordinator Shri V. Srinivas Sr System Analyst conducted the session and gave the demonstration of various methods of digital payment and their integration with the e-Governance projects.
Moiz Hussain, Maharashtra
Search Online News