Showing 11 to 20 of total 888 items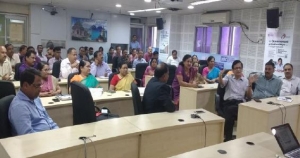 A seminar on "Latest technology in terms of Networking & Data Centre Architecture" was organised at the VCR Hall of NIC, Bhubaneswar on 22nd June 2017 in coordination with Cisco Systems, Inc. Shri P. K. Pramanik, DDG & SIO initiated the seminar with introductory address on the best practices in Data Centre and latest technology involved in the present scenario. Er. Kunal Purkayastha, Systems Engineer and Er. Sandipta Mohanty, Country Manager – Govt. & Defence
...
A. K. Hota, Odisha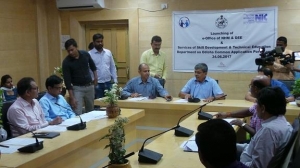 eOffice for Directorate of Elementary Education and National Health Mission, Odisha was launched by Chief Secretary, Odisha, Sri Aditya Prasad Padhi at 2nd Floor Conference Hall, Secretariat, Bhubaneswar on dt- 24.06.2017 at 1 PM. NIC has developed the product e-Office with an aim to support e-governance by ushering in more effective and transparent inter and intra-government processes. The vision of e-Office is to achieve a simplified, responsive, effective and transparent working of all
...
A. K. Hota, Odisha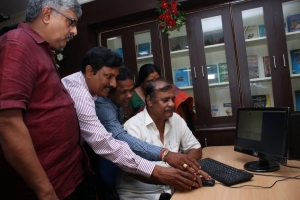 The State Archives, Bhubaneswar, Odisha launched e-library system of NIC on 9th June 2017 on the occasion of the International Archives Day. Inaugurating e-Library system Sri Ashok Chandra Panda, Honorable Minister for Culture and Tourism, Odisha informed that the books that are in the library of the archives have been catalogued for easy access to users. Previously, the users were physically searching books from a huge number of books and old records, but now it will be
...
A. K. Hota, Odisha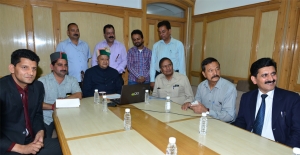 Honourable Chief Minister of Himachal Pradesh, Sh. Virbhadra Singh, inaugurated the recently built modern Integrated Sugam Centre at Dharamshala, headquarters of District Kangra, from Shimla using the NIC Video Conferencing facility on 12th June 2017. Sh. Sudhir Sharma, Honourable Minister for Urban Development, Sh. C.P. Verma, Deputy Commissioner, Kangra and other officers of District Administration and NIC were present at the Sugam Centre in Dharamshala DC office complex. Sh. T.G.
...
Ajay Singh Chahal, Himachal Pradesh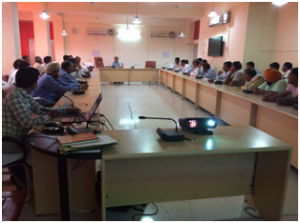 In order to conduct the Aadhaar Enabled e-KYC "Jan Seva Survey (JSS)" for building State Resident Database (SRDB), a series of continuous Training Programmes–cum-Workshops are being organized in all the Districts of Haryana NIC District Informatics Officer Sirsa (Haryana) has conducted 16 (Sixteen) numbers of workshop which was attended by 1649 participants. Master Trainers, Enumerators and Saksham Youth have been imparted training during these
...
Deepak Sawant, Haryana
To introduce first of its kind initiative in India for submission of bills in treasuries in form of digitally signed e-Voucher in place of physical form bills, NIC Haryana in coordination with Treasuries & Accounts Department has organised a half day workshop has been organized for the Drawing and Disbursing officers of Chandigarh Treasury at New Secretariat Haryana conference hall on 21/06/2017 to training on new e-Voucher system . To implement the system,
...
Deepak Sawant, Haryana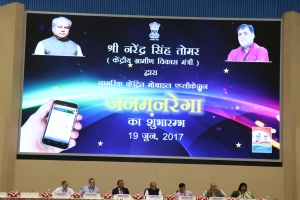 Sh. Narendra Singh Tomar, Union Minister for Rural Development and Panchayati Raj, launched Citizen Centric Mobile App - JanMGNREGA on 19 June 2017 at Vigyan Bhawan, New Delhi. Sh. Ram Kripal Yadav, Minister of State for Rural Development, Sh. Amarjeet Sinha, Secretary (Rural Development) GoI and other distinguished guests were also present on the occasion. The app is developed for android platform and is meant to provide important information about MGNREGA and Geo-MGNREGA to the citizen. The
...
Sandeep Sood, Himachal Pradesh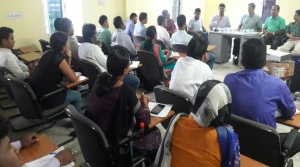 A two days long training programme on Bhunaksha s/w on map correction was held during 5th and 6th June'2017 in the e-Governance training centre of Collectorate, Ganjam for all the 23 Tahasil staffs of Ganjam District. The training was conducted Sub-Division wise. Ganjam has three sub-divisions i.e. Chhatrapur having 8 Tahasils, Berhampur having 7 Tahasils and Bhanjanagar having 8 Tahasils. The R.I./ARI/Amins of the tahasils participated in the training programme. The training programme
...
A. K. Hota, Odisha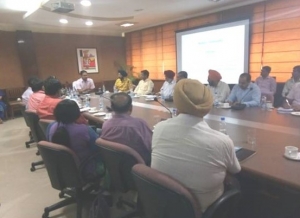 Chandigarh Administration UT has decided to adopt online procedure for writing/filling Annual Performance Appraisal Report (APAR) of Group A, B and C officers/officials working with administration from next year ie 2017-18 onwards. In this regard a sensitization workshop cum training on online APAR was organised for the Head of Departments (HOD) of all the departments of Chandigarh Administration. Head of the department alongwith a Nodal officer, dealing in the matter related
...
Vivek Verma, Chandigarh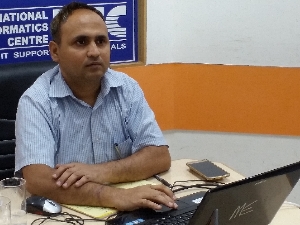 A workshop was organized for Medico Legal Examination & Post Mortem Report)- Forensic Science Laboratory (MedLEaPR-FSL)Software over Video Conferencing with Rajasthan. The application is developed by NIC-Haryana State Centre and already successfully running in Haryana, Punjab and Chandigarh(UT). On the direction from Hon'ble High Court Rajasthan, the MedLEaPR-FSL application is to be replicated in State of Rajasthan. Mr Rahul Jain , Scientist-E (State Health Coordinator) and
...
Deepak Sawant, Haryana
Search Online News