Launch of an online GPF Information System at Principal Accountant General Office, Nagaland, Kohima on 31st July 2017
T Y Sangtam, Nagaland
tysangtam[at]nic[dot]in
|
Aug 2, 2017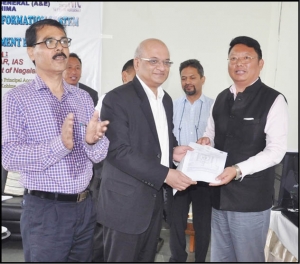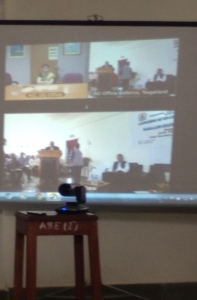 An Online GPF Information System for Nagaland State government employees was inaugurated by the Chief Secretary, Shri Pankaj Kumar, IAS, Government of Nagaland at the Office of the Principal Accountant General (A&E), Kohima in the presence of high level state officials and Smti Neeta Verma, Director General of NIC who has joined the function through VC.
Principal AG (A&E), Shri E. Mhonbemo Patton, IA&AS in his welcome address has mentioned that the Office of Principal AG (A&E), Kohima in partnership with NIC Nagaland and NIC Manipur has taken up the online GPF implementation for the registered GPF subscribers of Grade C and above employees of the State Government.
The Chief Secretary highlighted some of the online payment systems developed in recent times like electricity billing in some districts, NPSC online application, online scholarship application etc. He said that the online GPF system will help the State employees to quickly access their GPF account statement in a much easier way through electronics form. Chief Secretary has appreciated the effort of NIC and the AG Office for launching the online GPF Information System. He said that NIC's contribution towards various e-governance projects in the state is commendable and he further stated that the state government is looking forward more support from NIC.
Joining the function through VC, Smti Neeta Verma, DG(NIC) has briefly shared about the advantages of the online GPF information System. She has highlighted the ICT infrastructure support like the connectivity, Data Centre, National Cloud, VC and messaging service for all the government sectors across the country. She also has emphasized on some of the key applications like e-Hospital, Land Records Application, Online Treasury, PFMS, etc. for implementation on priority basis by the state. In her concluding speech, she said that NIC will be happy to provide continuous support to the O/o AG, Kohima and other ICT projects being implemented in the state.
Power Point presentation on technical aspect of the online GPF system was given by Shri Kemvu Elah, TD& Addl. SIO, NIC Nagaland. Shri Kahoto J. Yepthomi, IA&AS, chaired the programme and pronounced vote of thanks.