J and K : Vahan 4.0 & Sarathi 4.0 launched at ARTO office in District Kargil
Jit Raj, Jammu and Kashmir
jit[dot]raj[at]nic[dot]in
|
Aug 2, 2018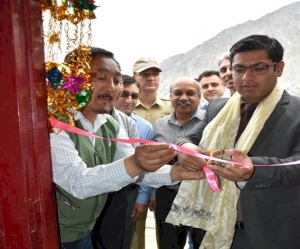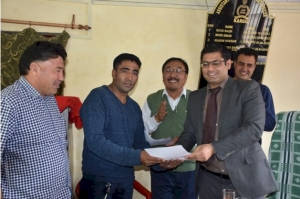 Kargil, 26th July 2018: Deputy Commissioner/CEO, LAHDC, Kargil Mr. Vikas Kundal, IAS formally launched the VAHAN 4.0 and Sarathi 4.0 on 26th July 2018 at  Kargil. Mr. I Kachroo, KAS, Addl District Magistrate Kargil, ARTO Kargil,   Sh Rakesh K Gupta, Scientist "E" and Project Coordinator, NIC J&K, DIO NIC Kargil, District officers and Citizens of Kargil were present on the occasion. ARTO explained the working of Vahan and Sarathi applications whereas Sh Rakesh K. Gupta explained the various on line user friendly features available in the web based application viz a viz benefits to the Citizens of Kargil.
Deputy Commissioner Kargil has processed an online application of Registration of Vehicle and handed over printed Registration Certificate to the owner of the vehicle, DC also handed over "Learner License" generated using Sarathi 4.0 to the Citizen of Kargil.  Deputy Commissioner appreciated the efforts made by the ARTO Kargil for implementing VAHAN 4.0 and Sarathi 4.0 Project in the district despite unreliable Internet connectivity, with the computerization of ARTO Kargil, the district Kargil has moved one step further towards e-Governance.
Deputy Commissioner, Kargil said that with the implementation of web-based applications district Kargil now hooked to State as well as National database of Vehicles in real time and the details of a vehicle as well as DL/LL would be available on click of mouse.  He also thanked NIC for the implementation of Vahan 4.0 and Sarathi 4.0 software in the highly remote and backward district of  J&K.
Earlier NIC's NICNET service was extended upto the ARTO Office through 2Mbps lease line circuit which is the network backbone for running the Parivahan portal efficiently in Kargil.