Honorable Minister Health and Medical Education J&K Government reviewed e-Hospital@NIC
Jit Raj, Jammu and Kashmir
jit[dot]raj[at]nic[dot]in
|
May 22, 2018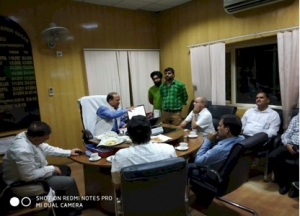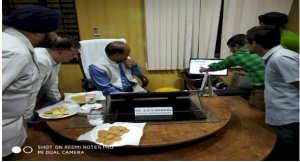 Hon'ble Minister for Health and Medical Education, J&K Government, Dr. Devinder Kumar Manyal chaired maiden meeting of Health Department and also reviewed the functioning of e-Hospital@NIC project running at Govt Hospital Gandhi Nagar Jammu as well as at 02 District Hospitals, 04 sub-district Hospitals and 10 Primary Health Centres in J&K.
Hon'ble Minister evinced keen interest during the demonstration on various e-Hospitals modules such as New Patient Registration, Follow-up, Revisit, Admission, Discharge, Scheduling, Laboratory, Blood Bank, Pharmaceutical/ General Stores, New Born Baby and recently developed and implemented Partograph module. The workflow of Partograph module in e-Hospital matches with the procedural steps being followed in case of a pregnant woman well from her LMP stage to the delivery.
Hon'ble Minister appreciated excellent team work responsible for successful implementation of e-Hospital project in J&K and issued necessary instructions to work out possibilities for the replication of the solution in Govt Medical College Jammu/ Kashmir, along with other Health Institutes in J&K.
 The Hon'ble Minister was accompanied by the Finance Secretary, Director Health Services Jammu, along with senior officers of e-Hospital team from NIC in J&K.
eHospital Team
NIC J&K