Honourable CM, Himachal Pradesh Launches Online Trainee Registration Module (Manav Sampada) on Civil Services Day
Sandeep Sood, Himachal Pradesh
sood[dot]sandeep[at]nic[dot]in
|
May 4, 2018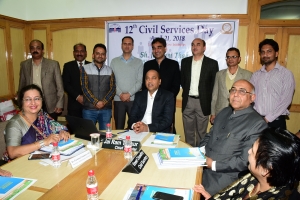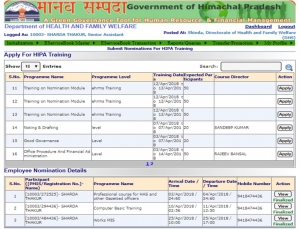 Sh. Jai Ram Thakur, Hon'ble Chief Minister, Himachal Pradesh launched the Online Trainee Registration Module, as part of Manav Sampada services, on the Civil Services Day on 21st April 2018 at Shimla. He also launched 7 other Programs of the Department of Administration Reforms and HP Institute of Public Administration (HIPA) related to Public Service Guarantee Act, Right To Information Act, District eGovernance Index, Mapping of Training Requirements, Newsletter and Journal of HIPA.
Hon'ble Chief Minister appreciated the role of NIC in providing eGovernance solutions and expressed hope that the initiative will be implemented in the right spirit.
Sh. Vineet Chawdhry, Chief Secretary, Ms. Manisha Nanda, Additional Chief Secretary (EST, IPR, Tourism) -cum- Principal Secretary to CM, Sh. Anil Khachi, ACS (PWD), Dr. R.N. Batta, Secretary (PM to CM, RD and PR), Dr. Purnima Chauhan, Secretary (AR), Sh. C.P. Verma, Director HIPA and HoDs of many Departments were present on this occasion.
The software interface has been developed as part of Manav Sampada software by NIC Himachal Pradesh and it enables employees and Departments to sponsor candidates in online mode. It will help to check repetitive nominations of employees and also prepare a database for HIPA. The auto-entry of training will be done in the Service record of the employees. The HIPA will be able to better monitor its training programmes through this software interface.