THE GOVERNOR JAMMU and KASHMIR LAUNCHES WEBSITE OF SHRI AMARNATHJI SHRINE BOARD
Jit Raj, Jammu and Kashmir
jit[dot]raj[at]nic[dot]in
|
Apr 4, 2018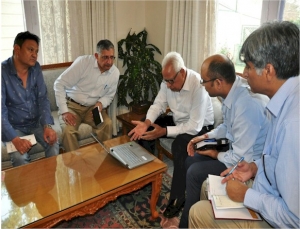 HON'BLE GOVERNOR JAMMU & KASHMIR
LAUNCHES
WEBSITE OF SHRI AMARNATHJI SHRINE BOARD
To enable pilgrims intending to undertake the Shri Amarnathji Yatra this summer, Governor Sh. N.N. Vohra, Chairman of Shri Amarnathji Shrine Board (SASB), today on 02.04.2018 launched the redesigned and upgraded website of Shri Amarnathji Shrine Board (http://www.shriamarnathjishrine.com) at Rajbhawan Jammu which provides pilgrimage related information. The website has been designed and developed by NIC J&K and would subsequently be hosted on NIC Server.
It is mobile phone friendly and aids user experience, accessibility and outreach. The website is compliant with the Guidelines for Indian Government Websites (GIGW) and accessible to persons with visual impairment.
The website contains all necessary yatra related information such as registration procedures, State-wise lists of doctors/ hospitals, format of application form for procuring Compulsory Health Certificate, details of yatra routes, contact details, Health Advisory and Dos and Don'ts have been uploaded on the website and every effort shall be made to keep the website updated on a daily basis.

Others present on the occasion included Sh, Bhupinder Kumar, IAS, Additional Chief Executive Officer, Amarnathji Shrine Board; Sh. Jamyang Namgial, Scientist-F, NIC, Sh. Rahul Sharma, Scientist-E, NIC and other officers of Amarnathji Shrine Board.