Inauguration of DM-Dashboard at Bhadrak, Odisha
A. K. Hota, Odisha
ak[dot]hota[at]nic[dot]in
|
Mar 14, 2018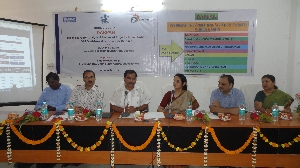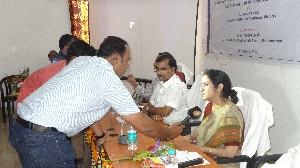 The DM-Dashboard was launched at Bhadrak district of Odisha on 6th March 2018.
District Collector Shri Gyan Das, IAS, launched the dashboard in the presence of all senior officers from district and representatives of media.
Sri Bijoy Mishra, DIO, Bhadrak welcoming all dignitaries informed that Bhadrak is going to be the second district of Odisha to launch the dashboard.
Delivering introductory speech Smt. Pratibha Singh, SIO, Odisha requested district administration to identify relevant KPIs and datasets so that those can be integrated over the dashboard in a meaningful manner.
Inaugurating the Dashboard Collector wished that the dashboard would provide information related to all projects in a single platform. This would facilitate district administration not only to review projects at their level but also to present any figure before the higher authorities using their tab or mobile phone. There is no need of carrying bunch of documents. Dependency of Collectors on other staffs to have any figure is also reduced by the process.
Smt. Sujata Das, Technical Director and project coordinator, demonstrated various features of the Dashboard. During discussion Dr. A. K. Hota, STD & ASIO, focused that the effective use of dashboard depends upon right choice of key parameters (KPIs) and availability of updated data in the backend applications.
Sri Shyambhakta Mishra, OAS(S), Additional District Magistrate, Bhadrak offered Vote of Thanks. It was followed by interaction with the media. The event was widely covered by both print and electronic media.