Inauguration of DM-Dashboard at Cuttack, Odisha
A. K. Hota, Odisha
ak[dot]hota[at]nic[dot]in
|
Mar 14, 2018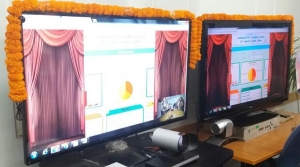 The DARPAN (Dashboard for Analytical Review of Projects Across Nation) portal  customized as DM-Dashboard of Cuttack district was inaugurated by  Shri Susanta Mohapatra, IAS, Collector and District Magistrate, Cuttack in presence of Smt. Pratibha Singh, State Informatics Officer (SIO), NIC, Odisha State Centre, Bhubaneswar and other dignitaries from District Administration and NIC.
At the outset, welcoming all dignitaries of District Administration, NIC and departmental officers present for the occasion, Smt. Mamata Khamari, District Informatics Officer, Cuttack mentioned that Cuttack is going to be the first district of Odisha for launching the DM-Dashboard. This excellent platform of DM Dashboard will facilitate the Collector to manage and enhance the performance of the schemes and programmes of Government of India and Government of Odisha, implemented in the district in a more effective manner. So far more than 10 projects have been integrated and more and more projects would subsequently be integrated as per advice and requirement of the district administration.
In her introductory address, Smt. Pratibha Singh, State Informatics Officer, informed that NIC has developed a comprehensive, generic and configurable Dashboard, which is an online tool to monitor and analyse the implementation of high priority programmes and projects of the district. It facilitates presentation of real time data on key indicators of selected programme / projects to the district administration.
Inaugurating the dashboard Shri Susanta Mohapatra, IAS, Collector and District Magistrate, Cuttack informed that timely and effective implementation of schemes / projects is critical to the success of government programmes. Digital technology has proved to be extremely useful in planning, implementation as well as monitoring of government programmes.
Appreciating the effort put in by NIC district and state team, Collector wished that the dashboard would certainly prove to be an effective tool to monitor priority programmes and it would provide comprehensive relative progress to the district administration.
Offering Vote of Thanks to all dignitaries, Shri Raghuram R. Iyer, OAS (S), ADM, Cuttack, informed that the Dashboard so inaugurated is highly configurable tool where one can define own indicators, modify existing indicators and can be connected to any IT applications of the district to capture real time progress of the project. This would be a very helping tool for our monthly review.
Other dignitaries present in the occasion include, Dr. A. K. Hota, Senior Technical Director and Addl. SIO, NIC, Smt. Sujata Dash, Project Coordinator (DARPAN), Ms. Itishree Nanda, Additional DIO, Cuttack.