Haryana:- Gold Award to M P Kulshreshtha, DIO Hisar at National Level DIO Meet-2018 on Grass Root Informatics at Delhi
Deepak Sawant, Haryana
sawant[dot]deepak[at]nic[dot]in
|
Feb 15, 2018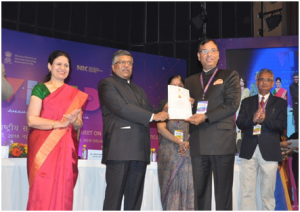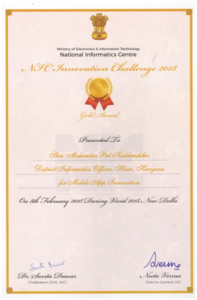 NIC Innovation Challenges -2018
(DIO Meet -2018 on Grass Root Informatics)
Gold Award
To
Mahendra Pal Kulshreshtha
(District Informatics Officer)
NIC - Hisar (Haryana)
(Under Mobile Application Innovation category)
National level DIO meet on Grass Root Informatics was organized by NIC at India Habitat Centre at Delhi since 8th February to 10th February which was graced & inaugurated by Sh Ravi Shankar Prasad Hon'ble union minister of Electronics and Information Technology, Law and Justice. During the meet, along with the appreciation of the work done by NIC, Hon'ble Minister especially mentioned the productive functioning of the NIC at district level and performing as indispensible in implementation of "Digital India" drive. For enhancing and strengthen the role of District Informatics Officer, innovations in ICT were considered one of the important enabler to lead Digital India Derive in the country. 
To leverage the expertise as innovations of NICians at Districts level, "NIC Innovation Challenges -2018" was planned under different ICT categories for innovations and innovators within NIC to improve the citizen centric services and e-Governance activities. The three awards were declared under different categories i.e. First winner (Gold Award with Rs 100000 cash prize), Second winner (Silver with Rs 50,000 cash prize) and Third winner (Bronze with Rs 25000 cash prize).
With this challenges, Mr Mahendra Pal Kulshreshtha, District Informatics Officer, Hisar (Haryana) participated in NIC Innovation Challenges -2018, under Mobile Application Category.
After passing successfully multiple mandatory steps of the NIC Innovation challenges -2018, the mobile app "Geo ODF Sustain Haryana"which was conceptualized and developed by Mr Mahendra Pal Kulshreshtha (3622) was shortlisted as first winner and Hon'ble Minister of Electronics and Information Technology Sh Ravi Shankar Prasad presented GOLD AWARD to Mr Kulshreshtha, District Informatics Officer, Hisar (Haryana) during the National Level DIO Meet -2018 held at India Habitat Centre Delhi whereas along with the senior officers of NIC across the states and NIC Head Quarter the Director General NIC (Ms Neeta Verma) were graced the occasion with her auspicious presence
The App 'Geo ODF Sustain Haryana" under Swachh Bharat Mission (Gramin) to achieve the Open Defecation Free (ODF) villages, the state of Haryana has now declared Open Defecation Free (ODF) state; it has now become important & major area of concern that to continue focus on sustainability of ODF. As ODF is not one time process it progressively needs active participation of village community specially the PRI, citizen of the villages, adopting the best practices and sharing them for other villages/GPs, via Mobile App and social media channels, regular and close monitoring to identify the ODF vulnerable sites/areas, locating them and if any one violating the ODF then its redressal mechanism, time to time village of community deprived from the facility of toilets in their houses, in standard templates and generating various MIS reports, IEC campaign. For addressing such issues there was a need to develop Mobile App entitled "Geo ODF Sustainability Haryana" so that micro level monitoring by involving PRI (Sarpanches and Panches) and other officers as per their role may be engaged through App accordingly and such solution may help in ensuring the sustainability of the ODF thereof.