Training on Mobile App Development At NIC, Mizoram
Lalhmachhuani, Mizoram
chhuani[at]nic[dot]in
|
Oct 16, 2017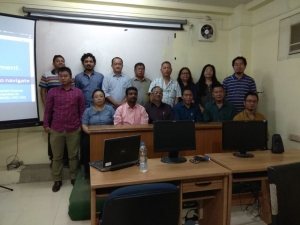 A three day training programme on the subject "Mobile App Development" was successfully organized during the 11th to 13th, October 2017 by the National Informatics Centre, Mizoram State Unit in Aizawl, Mizoram. The programme was organized with an ambition to equip NIC officials on the latest technology i.e Mobile Application Development. NIC officials from the state as well as district unit attended the programme.
Shri Sunish Kumar, Scientist D from NIC Delhi was the sole resource person; he was able to effectively communicate and imparts knowledge and skills to trainees on the subject. The course begins from the basic and proceeded upon actual application development and deployment. Trainees were able to develop their own basic mobile application during this short period of time. It was felt that a more intensive training course on the same subject be repeated in the near future.
After the training was over, VC was held with Shri D.C.Misra DDG and State Coordinator Ms. Seemanthanee Sengupta STD with all the participants and discussed about the training which is found to be very helpful.
NIC Mizoram conveys our sincere gratitude to Shri D.C Misra – DDG, State Coordinator Ms. Seemanthanee Sengupta STD and SIO Shri Susanta Mohapatra for taking the initiative in organizing this important programme.